A looming recession and an unemployment rate projected to climb to 6.6% by early 2024 are set to tip more Canadians into loan delinquencies and insolvencies.
With massive pandemic-related support measures largely over and living costs now soaring, mortgage delinquencies could rise by more than a third of current levels over the coming year.
Consumer insolvencies could increase almost 30% over the next three years, returning to pre-pandemic levels and likely remaining on an upward trajectory after that.
Still, we expect any financial troubles to remain relatively contained in the short to medium terms.
Bottom line: The noticeable improvement in Canadians' finances (in the aggregate) early in pandemic wasn't sustainable. Those gains are now reversing and will likely erode further amid a softening economy and higher interest rates. We expect the environment to remain challenging for years to come—but an all-out collapse is unlikely.
The pandemic didn't stop Canadians from piling on debt
The early economic upheaval of the pandemic sparked fears that highly-indebted Canadian households would face financial Armageddon. These fears have not been realized.
On the contrary, Canadians' financial positions improved during the crisis: net worth increased, and various metrics of debt service, loan delinquencies and consumer insolvencies grew noticeably stronger. Much of this can be attributed to massive government support programs (e.g. CERB and CRB) and a highly accommodative monetary policy that provided a lifeline for many Canadians.
But these factors didn't stop Canadians from loading on more debt. Indeed, a booming housing market put mortgage debt on a fast track. By late-2021, Canada's household debt-to-income ratio had exceeded pre-pandemic levels. And it's remained elevated ever since.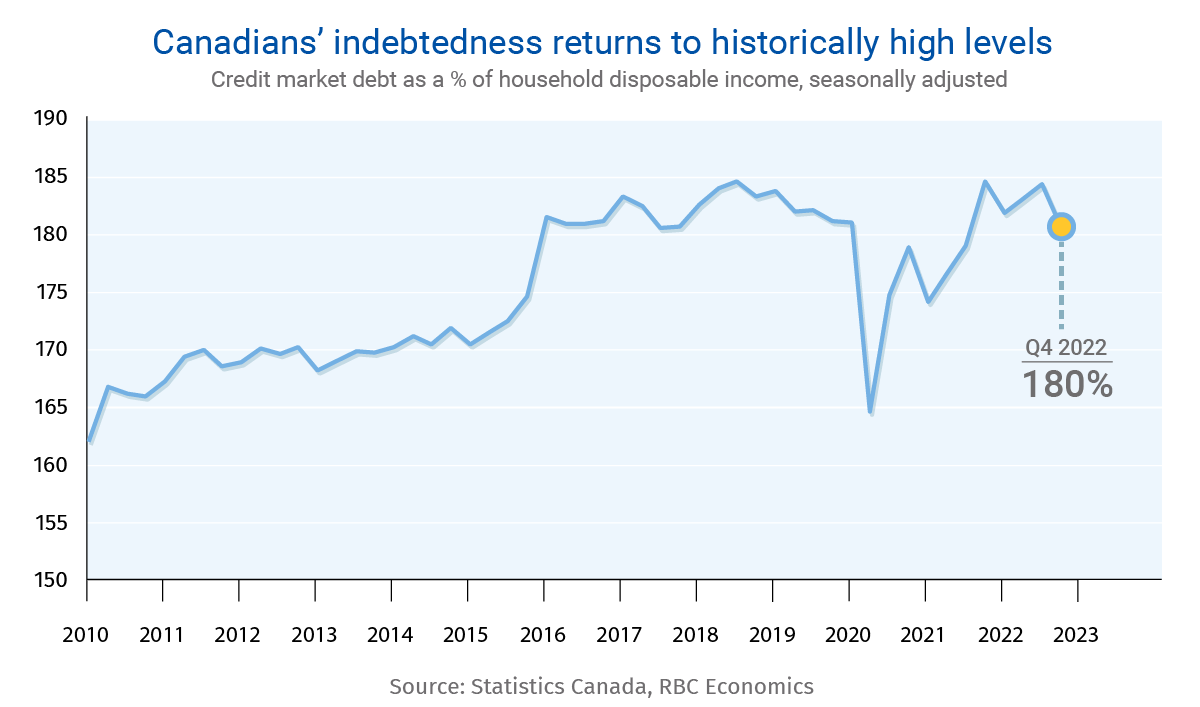 Cracks are beginning to form
Over the last year, the burden of that debt has grown even heavier for Canadian households. Government support programs have largely ended, the cost of living has soared with inflation, and interest rates have spiked. These developments have caused an increasing number of Canadians to fall behind in on debt service payments that have suddenly swelled.
While the share of mortgages in arrears hasn't really increased so far—and remains the lowest on record—the rate of consumers 90+ days late on their debt service payments has nevertheless risen for installment loans (typically used for one-off purposes like home renovations, unexpected emergencies and debt consolidation), credit cards, auto loans, and more recently, for lines of credit.
A looming recession and the ongoing effect of higher interest rates will only add stress in the period ahead. Holders of debt with interest rates that instantly adjust to changes in the Bank of Canada's policy rate (e.g., variable rate mortgages) are already facing steeper monthly payments in many cases. This will also become the reality for fixed-rate mortgage holders once their term expires.
Meantime, the modest contraction we expect for Canada's economy will likely trigger job losses. We project our national unemployment rate will rise from the current 5% to 6.6% by 2024Q1. Historically, the loss of a job has been one of the principal factors contributing to loan delinquencies and consumer insolvencies in Canada.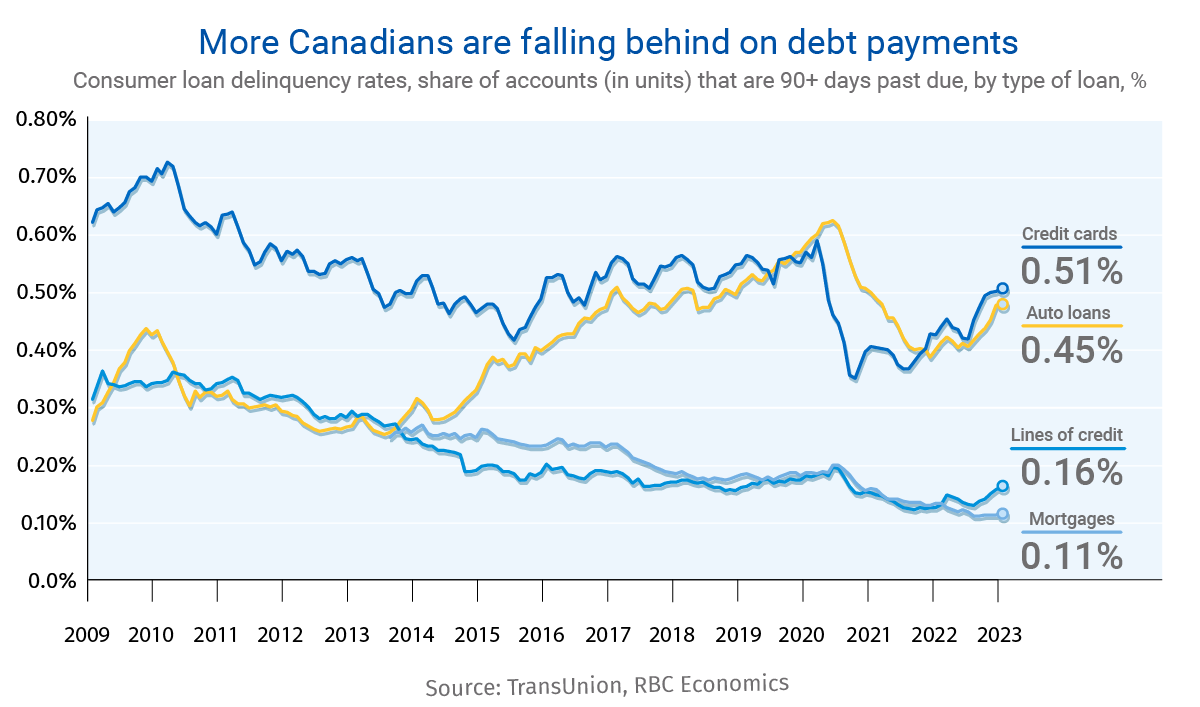 How much more challenging will it get?
Our analysis suggests that mounting unemployment could reverse about half the decline in the rate of mortgage delinquencies over the coming year. It also suggests the rate is likely to continue trending higher into the medium to longer term as earlier interest rate hikes and heavier debt service loads catch up with financially-stretched mortgage holders.
Similarly, rising unemployment could push a growing number of Canadians into insolvency over the coming year—though higher interest rates and heavier debt service loads would likely contribute too. In fact, the latter factors could emerge as more potent drivers over the medium to longer term, keeping insolvencies on an upward path even after the labour market recovers and interest rates moderate. We expect the household debt-to-service ratio to rise more than 1 percentage point over the next year, to a historical high of 15.5% by 2024Q4. Consumer insolvencies could rise almost 30% over the next three years, according to our analysis.
Record indebtedness has made Canadians more interest rate-sensitive than ever. And the impact of past rate increases will continue to pressure mortgage borrowers for years to come as they renew their mortgage terms (most commonly of five-year length) at what may be much steeper rates. This poses a particular risk in 2025-2027 for a specific group of borrowers: those who bought a home between late-2020 and early-2022—when the market was at its peak and interest rates hit rock bottom.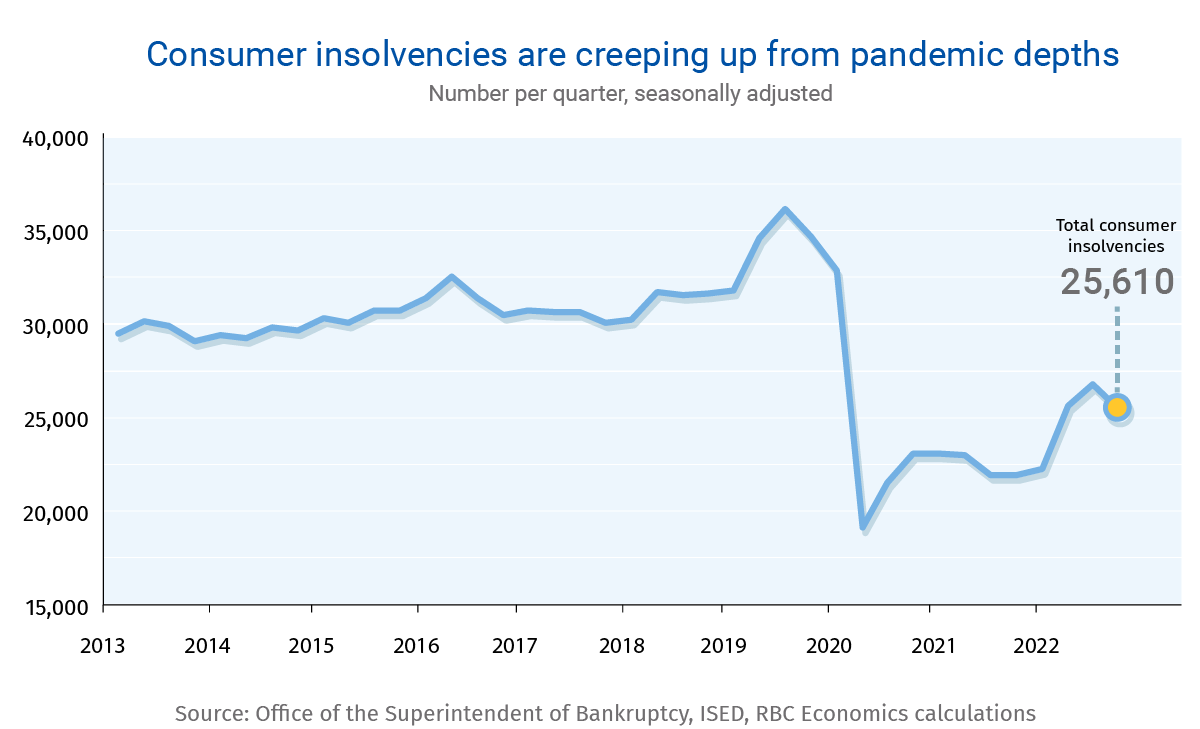 ---
Robert Hogue is responsible for providing analysis and forecasts on the Canadian housing market and provincial economies. Robert holds a Master's degree in economics from Queen's University and a Bachelor's degree from Université de Montréal. He joined RBC in 2008.
Mishael Liu Research Associate, RBC Economics & Thought Leadership.
Proof Point is edited by Edited by Naomi Powell, Managing Editor of RBC Economics & Thought Leadership.