On February 24, the PEI government released its 2022 budget, which maintains the course toward full recovery and a stronger, sustainable future. While there were few major new initiatives, those that Finance Minister Darlene Compton announced clearly prioritized building further resilience and laying the foundation for a greener, more inclusive economy.
Budget deficit projected to soar
Despite a cautiously optimistic outlook for the province, Minister Compton projects a $93 million deficit in 2022-23 or nearly four times the (downwardly-revised) $26-million shortfall in 2021-22 (initially forecasted at -$112 million). The increase in the deficit is mainly attributable to higher spending (up $62 million or 2.4%) though a small $4-million (-0.2%) drop in revenues also plays a role.
Health, childcare and a greener economy top the priority list
The province plans to boost program expenditures by $46 million (1.9%), including a $27-million (3.0%) bump to health and wellness to, among other things, expand hospital capacity—hiring and training physicians and nurses, as well as building medical homes—and the provincial dental care program. Spending on other programs is projected to rise $20 million (1.3%). This will include investments to grow the childcare system (funded in large part by the federal government) and incentives to support the transition to a greener economy (including rebate programs to promote the purchase of electric vehicles and heat pumps). Interest charges are slated to increase $10 million and amortization of capital assets $6 million.
Drop in federal transfers to weigh on revenues
The provincial government expects revenues to edge lower next year after surging $209 million (8.8%) in 2021-22. Federal transfers are projected to drop $3.3 million (-0.3%) to $1.0 billion, while own-source revenues are seen to stay relatively flat (down just 0.1%) at $1.6 billion. The budget's revised forecast for 2021-22 now shows significant increases of $48 million and $160 million for federal transfers and own-source revenues, respectively.
The province still retains fiscal flexibility despite rising debt
The three-year fiscal plan projects deficits of $52 million in 2023-24 and $32 million in 2024-25. Funding successive shortfalls, however, will cause the provincial net debt to rise materially this year (up 8.8% to $2.7 billion) and the next two (up 5.3% and 3.3%, respectively) to $2.9 billion by 2024-25. As a share of GDP, net debt is projected to increase from 28.6% in 2021-22 to 30.5% by 2024-25. Still, this represents a significant downward revision from Budget 2021 (the terminal point was 33.8% in 2023-24). PEI's indebtedness compares favourably to provinces east of Saskatchewan. Despite the high costs the pandemic inflicted on governments around the world, PEI managed to retain valuable fiscal flexibility.
---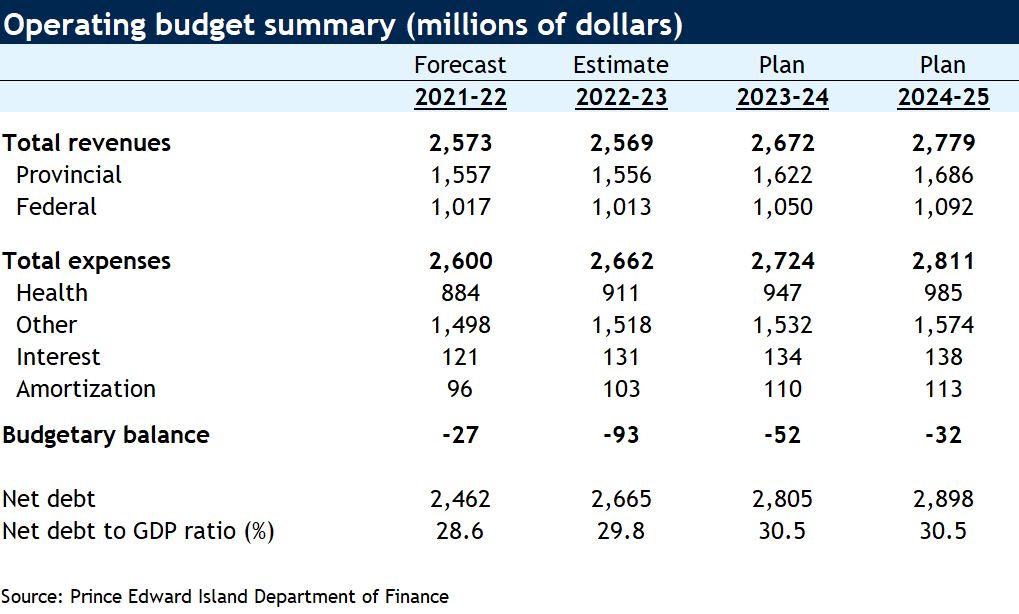 ---
Robert Hogue is responsible for providing analysis and forecasts on the Canadian housing market and provincial economies. Robert holds a Master's degree in economics from Queen's University and a Bachelor's degree from Université de Montréal. He joined RBC in 2008.