Alberta Budget 2021
Highlights:
Alberta projects an $18.2 billion budget deficit in 2021-2022
This will be an improvement from a deficit of $20.2 billion in 2020-2021
Revenues to rise $1.4 billion in 2021-2022 on stronger resource and corporate tax revenues
Further COVID-related expenditures to drive expenses higher to $57 billion
Public sector compensation will be scaled back by more than $800 million, however
---
---
On February 25th, Alberta's Minister of Finance, Travis Toews, emphasized the difficult hand Alberta had been dealt in the past year when delivering the 2021 budget. One year ago, he expected to bring the provincial budget into balance within three years. Budget 2020's ink had barely dried when oil prices hit rock bottom last spring and the COVID-19 pandemic shuttered large parts of the economy, throwing the fiscal plan (in Alberta and around the world) way off course. Minister Toews' latest plan projects a second-straight massive deficit—$18.2 billion in 2021-2022—and further shortfalls in the following two years, with no explicit timeline to return to balance. The worst appears to be behind us, though. The plan projects future deficits to gradually come down from the record $20.2 billion estimated for 2020-2021 (revised slightly lower from $21 billion in the November budget update). Among other things, the outlook for oil prices has improved materially, which will provide a boost to resource revenues in the coming years. But more will be needed to realign revenues with expenditures. Minister Toews committed to providing a detailed roadmap once the pandemic is over.
---
---
Fiscal anchors ground Alberta's trajectory, for now
In the meantime, the government has set fiscal anchors to ground its fiscal trajectory. First, it pledges to keeping the province's net debt-to-GDP ratio below 30%—lower than most other provinces. And second, the province aims to align per-capita spending with that of other large Canadian provinces over three years. The government estimates it spends $10 billion more per year on a per capita basis than peer provinces. This target will focus the government's efforts to rein in expenditure growth over the medium-term.
Spending more to protect the lives and livelihoods of Albertans
Budget 2021 has a $1.25 billion COVID-19 contingency allocation to address unexpected developments that could threaten the health and safety of Albertans. Total healthcare spending is expected to come in at $23 billion in Budget 2021. In addition to $1.5 billion in COVID-related health spending this year, Alberta has allocated additional operational funding of $900 million in 2021-2022 to expedite surgeries delayed by the pandemic and to implement added mental health support, among other measures. The government also earmarked $1.5 billion to support economic recovery over the next four years. This money will go toward strategic investment in key economic sectors, job training and skills development. Budget 2021 also contains some expenditure restraint measures—focusing on public sector compensation. The government is continuing on its public sector size reduction program initiated in 2019-2020 that aims to shrink the ranks of the public sector by 7.7% by 2022-2023. This will save the province $832 million in 2021-2022.
A prudent budget
There's a fair degree of caution embedded in Budget 2021. The government is setting aside $2.5 billion in various contingencies and using conservative assumptions for the price of oil (its base-case WTI assumptions, at US $46/bbl in 2021-2022 and $55/bbl in 2022-2023, are materially lower than ours, at US $62/bbl in 2021 and US $63/bbl in 2022– RBC's base case assumption would imply almost $2.8 billion in additional revenue for the province in 2021-22). This provides some protection against unexpected events. That said, a conservative approach is necessary given high economic uncertainty brought on by the pandemic and the volatility of non-renewable resource revenue—a major source for the province historically. The fiscal plan projects non-renewable resource revenue to rise steadily thanks to growing oil production in the province and an improving price outlook. Resource revenue is expected to jump 44% in 2021-2022. This will be accompanied by a rebound in tax revenues of $583 million with only $54 million coming from an increase in corporate income tax revenues.
Capital investment to promote diversification and technological adaptation
As part of Alberta's Recovery Plan, the province is allocating an additional $1.7 billion in 2021-22 to capital infrastructure. The three-year Capital Plan has $20.7 billion in new infrastructure projects to stimulate job creation and private-sector investment. The government believes the investment will generate 50,000 direct jobs alongside the creation of 40,000 jobs indirectly over three years.
Alberta's debt-to-GDP ratio lower than most other provinces
Alberta's net debt is projected to reach 24.5% of GDP at the end of 2021-2022, and rising further by 2.1 percentage points over the following two years. Despite the deterioration in the province's indebtedness, Alberta has one of the lowest provincial net debt-to-GDP ratios among the provinces. This means that in order to meet its targeted fiscal anchor of 30% debt-to-GDP, the government merely needs to stabilize its level of indebtedness rather than shrinking it, as will be required by many other Canadian provinces.
---
---
Borrowing requirements double due to deficit
Borrowing is expected to increase by $12.1 billion from Budget 2020, to the tune of $24 billion in total borrowing for 2021-22. This increased borrowing requirement results from the higher deficit level brought about by the pandemic and oil price crash. Taxpayer supported debt outstanding will reach $115.8 billion by the end of 2021-22, after revising higher the expected debt levels for 2020-21 to $98.3 billion, an increase of 28% relative to Budget 2020. Consolidated debt servicing costs will be $2.8 billion this fiscal year, with debt servicing costs on taxpayer-supported debt representing 5.3% of this year's total revenue estimate.
The road to restore Alberta's fiscal position is just beginning
Budget 2021 is just the first step on a long journey. Improved oil prices will not be enough to pull Alberta out of its fiscal hole. The province faces a structural deficit—which was known before the pandemic—so there's hard work ahead for the government. As uncertainty surrounding the virus's trajectory hopefully clears up, we expect Budget 2022 to provide a more detailed roadmap to balance. A continuing challenge for fiscal planning, though, will be revenue volatility. Alberta relies heavily on non-renewable resource income—a volatile source of revenue. Going forward, the province should seek more stable sources—like a consumption tax—to ensure fiscal stability and predictability. We'll look for measures on both sides of the ledger to get the province to its ultimate goal. Addressing the revenue volatility should be as much of a priority as rightsizing expenditures.
---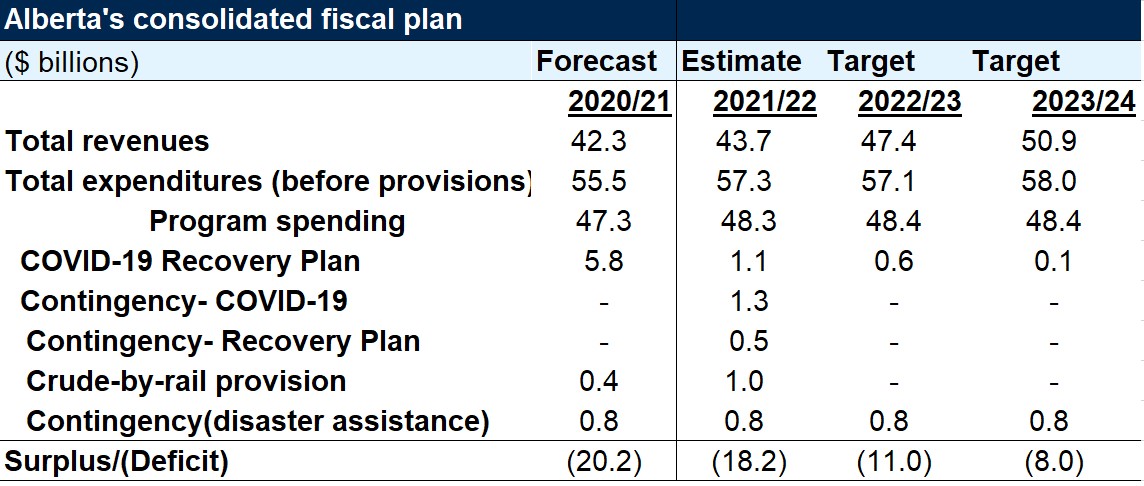 ---
Carrie Freestone is an economist at RBC. She is a member of the macroeconomic analysis group and is responsible for monitoring key indicators including consumer spending, labour markets, GDP, and inflation. Carrie produces economic analysis that she delivers to clients and the public through publications and presentations. She holds a Bachelor of Arts in Economics from Queen's University and a Master of Arts in Economics from the University of Ottawa.