Understanding the world around us through a new lens
The COVID-19 crisis has shattered the way we live our lives and experience the world around us. Economies have been frozen in time, causing reductions in greenhouse gas emissions and remarkable improvements in air quality around the globe. Once the health crisis resolves and economies re-start, will we continue the same habits of consumption and production?
Wednesday, April 22 marks Earth Day—an opportunity to reflect and set a path forward. As I reflect on the pandemic and the climate crisis, I am reminded of the conversation I had with iconic Canadian photographer Edward Burtynsky and gaming executive Vikas Gupta, who are pushing the boundaries of photography's next frontier, using augmented reality, virtual reality and photogrammetry to create immersive, three-dimensional visual experiences. They joined us in January for RBC Disruptors, where we spoke about how technology is transforming the photographic experience—and the way we understand our impact on the planet.
Burtynsky is celebrated around the world for his unconventional landscapes, shot from the ground and the air, showcasing the enormous and enduring impact of human beings on the world around us. He has captured the urban sprawl of Los Angeles, an oil field left for dead in Azerbaijan, the spectacular imprint of China's Three Gorges Dam, and a tire pile 40 million deep—which soon after went up in flames.
---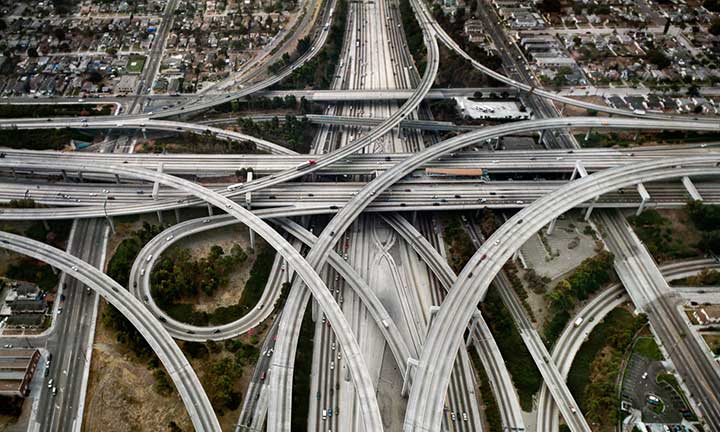 Highway #1, Los Angeles, California, USA, 2003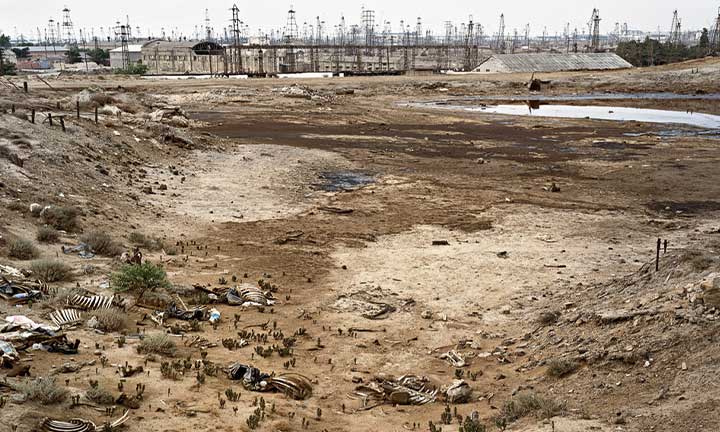 SOCAR Oil Fields #10, Baku, Azerbaijan, 2006
---
Then came the advent of digital, which allowed him to stitch together hundreds of photographs to create his renowned prints, massive in scale and detail. He began to collaborate with filmmakers and produced three major documentaries.
"This is what I call photography 2.0," Burtynsky said. "I was able to do all the things I couldn't do before—and get a better quality image."
---
Marble Quarries #1, Carrara, Italy, 1993 (detail)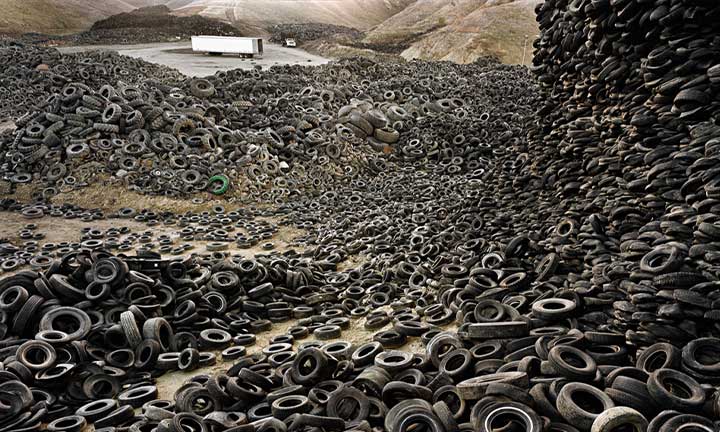 Oxford Tire Pile #1, Westley, California, USA, 1999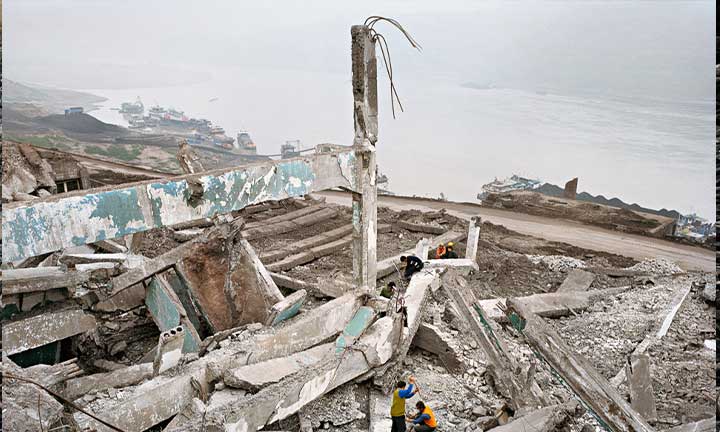 Wan Zhou #1, Three Gorges Dam Project, Yangtze River, China, 2002
---
Now, what he calls Photography 3.0 is opening up new doors for truth-telling.
At a chance meeting, Burtynsky connected with Gupta, a digital media and gaming veteran who'd worked with brands like Disney and Electronic Arts. They wondered: what would happen if you applied some of the principles of gaming to photography? If you actually transported people to some of the most extraordinary places and moments in time? Together, the two founded AVARA Media to find out.
One of their first AR experiences, part of the acclaimed Anthropocene project, made waves with a 3D augmented reality rendering of a historic event in Kenya: the massive burning of 100 tonnes of elephant tusks, designed to deter poachers in the country—and recreated at full scale from 3,000 photographs.
"To me, it was like an absolutely new form of photography that has again been born by digital," Burtynsky said.
The leap could be as significant as the shift from black and white to colour photography.
"As an artist, it's like a jump of that magnitude. Now you can use the same tool and bring out a three dimensional world in which you can walk around."
---
Building Ivory Tusk Mound, April 25, Nairobi, Kenya, 2016
---
Inspired by the stickiness of gaming, AVARA Media is building an immersive augmented reality technology platform that puts people face-to-face with the biggest environmental and ecological issues our planet is facing—and shows how they can be part of the solution.
Now, instead of just looking at a rainforest landscape, you can immerse yourself in it—and even pick up a plastic water bottle floating down the river. Or travel to Indonesia, the native habitat for the endangered Sumatran tiger, and help create a digital ecosystem in which the animals do not go extinct.
The thinking is that by immersing you into the action, and gamifying the task, digital behaviour will transform into actual behaviour. Just maybe, people will think twice before buying that next plastic water bottle.
"We want to inform, impact and influence people so they ultimately become change agents towards a healthier planet," Gupta said. "The idea around this is to inject enough game theory and gamification that there's mass, mass appeal."
Last year, the Royal Canadian Geographical Society and Canadian Geographic Education, with support from the RBC Foundation, partnered with The Anthropocene Project to develop an education program to expand its reach among youth and get into classrooms all across Canada. Through virtual and augmented reality, video and immersive lesson plans students can experience the history and science of different environments, and see with their own eyes the impacts of human activity, in places such as landfills. The new education program finally launched in Canada last month as part of Canadian Geographic Education's new Online Classroom.
Technology may have made the world of photography a much more crowded space, but for Burtynsky, it's opened up doors and worlds – and a whole new photographic art form.
John Stackhouse is a nationally bestselling author and one of Canada's leading voices on innovation and economic disruption. He is senior vice-president in the office of the CEO at Royal Bank of Canada, leading the organization's research and thought leadership on economic, technological and social change. Previously, he was editor-in-chief of the Globe and Mail and editor of Report on Business. He is a senior fellow at the C.D. Howe Institute and the Munk School of Global Affairs and Public Policy. His latest book is Planet Canada: How Our Expats Are Shaping the Future, which explores the untapped resource of the millions of Canadians who don't live here but exert their influence from afar.