Quebec Budget 2022
Government to give $500 to 6.4 million Quebeckers to offset soaring cost of living
Fiscal plan has $22 billion in new initiatives, including $3.8 billion in 2022-23
Budget deficit projected at $6.5 billion in 2022-23, shrinking to $2.8 billion by 2026-27
Net debt is back to pre-pandemic levels as a share of GDP, drifting lower in the coming years
Last-minute spending spree to help with soaring cost of living
Interestingly, the attention-grabber in Quebec's 2022 budget won't impact the province's books much in the coming fiscal year (2022-23)—for which spring budgets are usually about. The government announced a one-time $500 cost-of-living support payment that will be almost entirely funded in the year ending in two weeks from now (2021-22). Quebec Finance Minister Éric Girard indicated 6.4 million adult Quebeckers earning less than $100,000 a year will receive the payment when they file their 2021 tax return. To pay for this measure (costing $3.0 billion in 2021-22), the government will use most of a $4.4-billion windfall arising from greater-than-expected revenues since the fall budget update. The government will use the remainder of this windfall—and then some—on other new program spending initiatives (including affordable housing), and increased funding for COVID-19 support and recovery. The last-minute spending spree has prompted the government to slightly revise its budget 2021-22 deficit projection to $7.4 billion from the $6.8 billion expected in the fall.
Fiscal plan bulks up health care, seeks to stimulate economic growth
Budget 2022 is a big budget with $22 billion in new initiatives over six years, including $3.8 billion in 2022-23. Health care gets the lion's share of this increase ($8.9 billion in total, $1.3 billion in 2022-23) with investments to address provincial system weaknesses exposed by the pandemic and deal with an aging population. Programs to stimulate economic growth receive a significant boost too ($4.2 billion in total, $1.1 billion in 2022-23) as the government dedicates more resources to spur productivity and support regional economic development. Education and community group support are two other priority areas getting significantly more funding in the fiscal plan.
Excluding COVID-19 support and recovery measures, the government projects program spending to rise a hefty 4.9% ($5.9 billion) in 2022-23 and an average of 3.0% in the next four years. Pandemic-related expenditures, however, are slated to drop from $9.0 billion in 2021-22, to $2.4 billion in 2022-23 and $0.5 billion in 2023-24 before reaching zero in 2024-25. All in, after soaring about 10% in each of the previous two years, Budget 2022 forecasts total government expenditures to fall slightly by 0.3% in 2022-23 and grow an average of 2.4% in the next four years.

Revenue flows to moderate
The revenue side of the ledger provided spectacular upside surprises in 2021-22 with consolidated revenues now projected to come in at $136 billion, up 10.5% (or close to $13 billion) above the original Budget 2021 forecast. The government sees things settling down as the provincial economy moderates its torrid pace and one-off federal transfers run their course. It expects consolidated revenues to rise 2.2% in 2022-23 and an average of 3.1% per year thereafter—marking a slowdown from the 4.0% annual average recorded in the five years prior to the pandemic. We believe these projections may be conservative, though. Our own economic growth forecast for the province is modestly stronger than what Budget 2022 assumes, pointing to further possible upside surprises in the period ahead.
Budget deficit to edge lower with balance on the horizon
This cautious approach leads to only a slight improvement in the budget deficit from $7.4 billion in 2021-22 to $6.5 billion in 2022-23 (after deposits of $3.5 billion and $3.4 billion to the Generations Fund, respectively). But faster projected growth in revenues than expenditures over the fiscal plan will bring the deficit down gradually to $2.8 billion (0.5% of GDP) by 2026-27—not quite balance but roughly three-quarters of the way there, using the $10.8 billion deficit in 2020-21 as the starting point. This terminal deficit $2.8 billion—what the government considers its structural deficit—is less than half what it was in Budget 2021. It must be noted that before deposits to the Generations Fund (which represents the bottom line for other provinces), the province expects to reach balance in 2023-24 and generate small surpluses thereafter.
Quebec's indebtedness on a more encouraging track
A lower deficit profile and stronger-than-expected economic growth (especially when measured in nominal terms) have significantly improved Quebec's indebtedness position and outlook since Budget 2021. The government now projects its net debt-to-GDP ratio to quickly return to pre-pandemic levels (39.9%) at the end of 2021-22, and continue to drift lower in the coming years to reach 36.6% by 2026-27. This is a stunning turn of events from earlier expectations. A year ago, the massive fiscal response to the pandemic was thought to keep indebtedness well above pre-pandemic levels throughout the fiscal plan. While the new trajectory is encouraging, Quebec's remains one of the most indebted provinces. Finance Minister Girard indicated that his government intends to set new debt targets in Budget 2023.
Financing program to increase in 2022-23
The government projects its financing program to increase from $22.9 billion in 2021-22 to $26.7 billion in 2022-23. It expects the program will average $30.4 billion over the remaining four years of the fiscal plan. The updated estimate for 2021-22 is The government projects its financing program to increase from $22.9 billion in 2021-22 to $26.7 billion in 2022-23. It expects the program will average $30.4 billion over the remaining four years of the fiscal plan. The updated estimate for 2021-22 is down $5.6 billion from the original projection in Budget 2021 as a smaller-than-expected expected deficit and pre-financing reduced net financial requirements.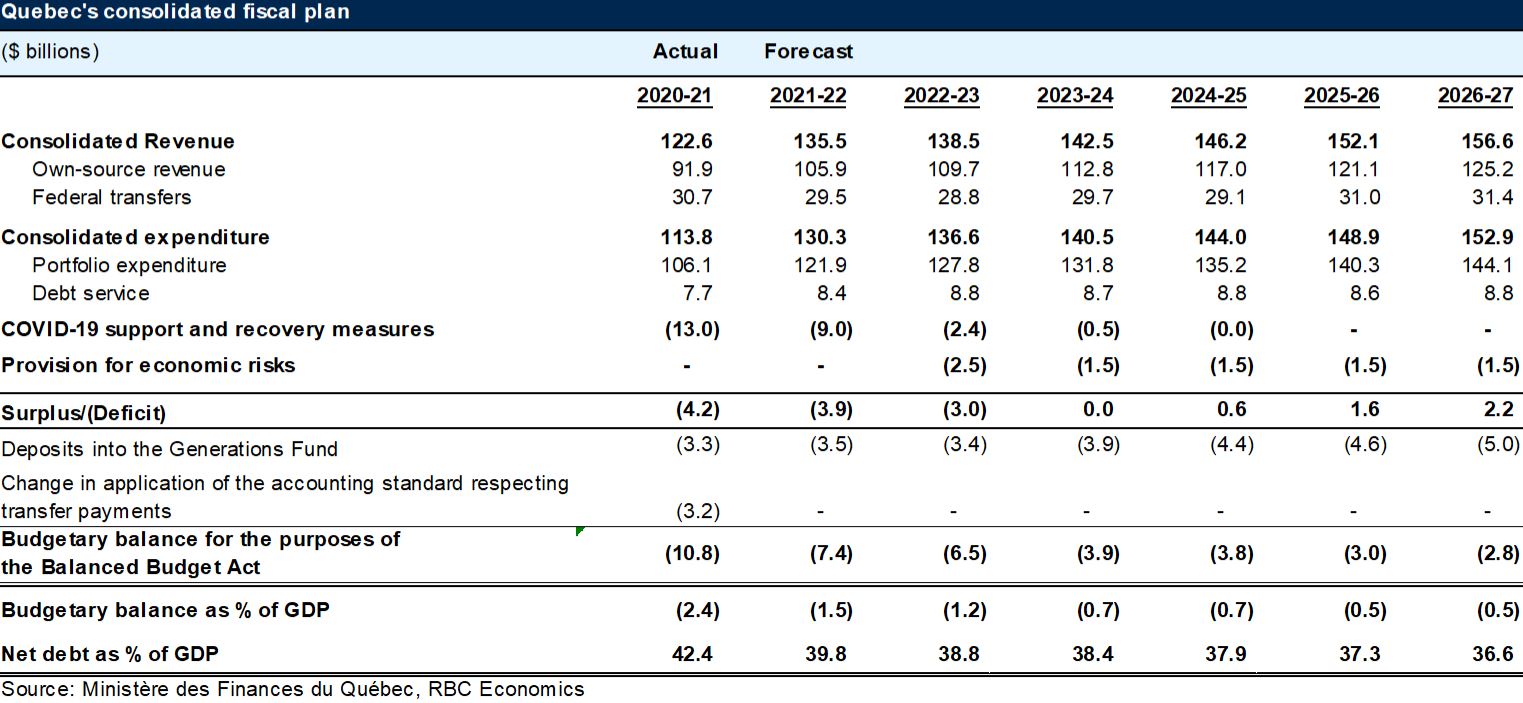 Maintaining a supportive stance
With the pandemic still raging, inflation rearing its ugly head and Russia's invasion of Ukraine posing new risks for the global (and Quebec's) economy, it makes sense for the Quebec government to maintain a supportive stance while tackling longer-term issues (including solidifying the provincial health care system, boosting productivity, addressing affordable housing needs). And it turns out the pandemic hasn't pounded the government's fiscal position as much as was earlier expected or feared—thanks in part to federal support. In fact, the rise in Quebec's indebtedness in 2020-21 is being reversed stunningly fast. This has given Finance Minister Girard some room to manoeuvre in this budget. There's no doubt low-income and middle-class Quebeckers will welcome the $500 cost-of-living support payments his government is sending their way this spring. Whether it'll be sufficient to cover bill increases remains to be seen. But six months away from a provincial election, it can't hurt.
---
Robert Hogue is responsible for providing analysis and forecasts on the Canadian housing market and provincial economies. Robert holds a Master's degree in economics from Queen's University and a Bachelor's degree from Université de Montréal. He joined RBC in 2008.