Highlights:
Ontario's deficit is now projected to come in 88% higher than March estimate
Revenues revised $5.7 billion lower and expenses $13.1 billion higher
Ontario's COVID-19 response action plan upped to $30 billion
---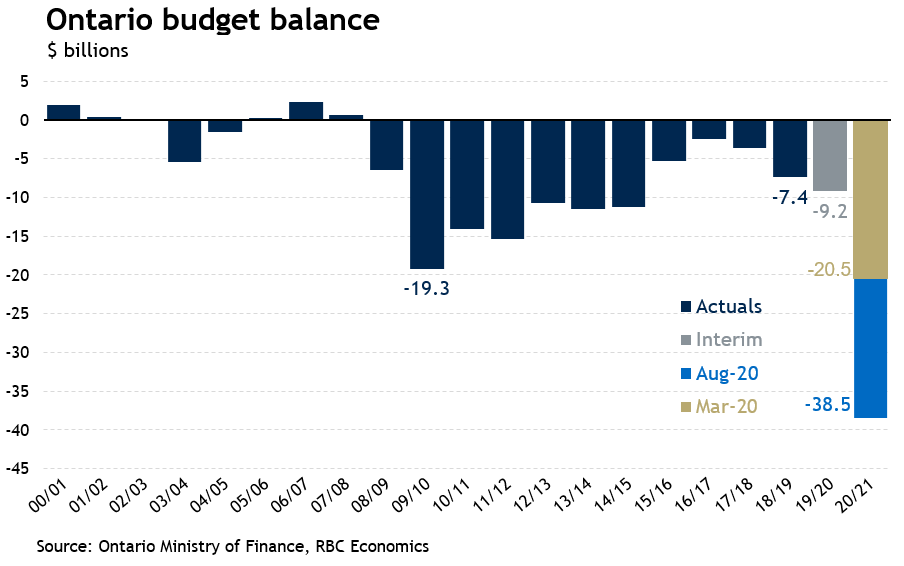 Ontario Minister of Finance, Rod Phillips, announced a $38.5 billion deficit for 2020/21 in his Quarterly Fiscal Update, an $18 billion upward revision. The higher deficit includes an additional $13 billion has been allocated to the government's COVID-19 response action plan. Total expenditure for the plan comes in at $30 billion, including $7.7 billion allocated to health care and $11.0 billion in pandemic support including pandemic pay for frontline workers and relief for electricity consumers. The province also cut its revenue projection by $5.7 billion, reflecting weaker revenues from income tax, sales tax, fees, and losses from Metrolinx. Some of the loss will be mitigated by increased federal transfers. Interest on the province's debt is expected to come in $741 million below March's estimate thanks to the lower interest rate environment, even though Ontario's funding requirement increased to $17 billion.
Our current forecast calls for real GDP to fall 5.8% in 2020, slightly less than the province's 6.6% forecast. From February to May, the unemployment rate rose to a record-breaking 13.6%. It has since fallen to 11.3% (July) after over 528,000 jobs were gained in June and July. Provincial employment is still 8.3% below pre-COVID levels. Rising home resales (+57% in May and +67% in June), retail sales and manufacturing sales in May (+14.2% and +17.5% respectively) supported Ontario's evolving recovery.
---
This report was authored by Economist, Carrie Freestone.