2021 Quebec Fall Fiscal Update
Highlights:
Provincial government slashes this year's projected deficit by nearly half to $6.8 billion
Stronger-than-anticipated economy and additional federal transfers boosts revenue forecast by $8.5 billion (6.9%)
Finance minister announces $10.7 billion in new spending measures over five years, including $1.7 billion in 2021-22
Brighter GDP and fiscal outlook materially improve the province's indebtedness picture
Net debt-to-GDP ratio is set to return to its pre-pandemic level (39.9%) this year after hitting a lower-than-expected peak of 42.4% last fiscal year
---
---
Three cheers for the strong economic recovery
The mood was definitely upbeat when Quebec Finance Minister Éric Girard delivered the 2021 budget update on November 25. While the province still battles the pandemic—with the number of cases even rising in recent days—the good news on the economic front was something to cheer about. The recovery is far exceeding expectations. So much so that the Quebec government has upped its 2021 growth forecast to a whopping 6.5%. Better yet, the spike in inflation is contributing to a 10.8% projected surge in nominal GDP (which more closely drives provincial revenues), or nearly 5 percentage points stronger than anticipated in the 2021 budget in March.
Revenues are flowing in
Needless to say, revenues are flowing in—a phenomenon also seen in other provinces. Minister Girard revised up the government's own-source revenues by a massive $5.9 billion (6.2%). Throw in the additional $2.6 billion (an increase of 9.5%) in federal transfers committed since Budget 2021 and suddenly Quebec has an unexpected $8.5 billion revenue windfall to cheer about.
Announcing $10.7 billion in new spending
Some of this windfall won't stay in the province's coffers long. Minister Girard announced the government will be spending an additional $10.7 billion over five years to help Quebecers cope with the rising cost of living, address the labour shortage, assist young families with daycare costs and strengthen Quebec's health system. Of this amount, $1.7 billion will be spent this fiscal year.
---

---
Slashing the deficit projection this year…
Still, the windfall will drive down the provincial deficit. The government slashed its projected deficit this year by nearly half to $6.8 billion. This is after a $3.3-billion deposit to the Generations Fund. It will follow a downwardly revised $7.5-billion shortfall in 2020-21—which, before the release of the public accounts hours earlier, was estimated at $10 billion (and $15 billion at the time of the 2021 budget).
…and through the medium term
It doesn't end there because the government has also upgraded its revenue profile through the remainder of the five-year fiscal plan. With consolidated revenues now running between 5.5% and nearly 6% above the previous baseline, Quebec will be able to accommodate additional spending and further reduce its deficit at the same time. The deficit is now projected to fall to $5.5 billion in 2022-23 (from $8.5 billion previously) and $4.0 billion thereafter. The government says this $4.0 billion is its new estimated structural deficit, down from $6 billion previously. This means additional measures on either (or both) sides of the ledger will be necessary to balance the books over the longer term. The government reiterated its commitment to balance its budget by 2027-28 (or 2024-25 if deposits to the Generations Fund are excluded).
---
---
Indebtedness picture vastly improves
Yet perhaps the bigger reason to cheer is the stark improvement in Quebec's indebtedness picture. Smaller deficits, stronger economic growth and hotter inflation will significantly improve the profile of the province's net debt-to-GDP ratio. That ratio rose much less than expected in 2020-21 (to 42.2% instead of 45.0% as previously projected), and will slide down to pre-pandemic levels (39.9%) this fiscal year and still lower the following year (to 38.6%). Moreover, the Quebec government expects its interest bite (debt service costs as a share of revenue) to barely budge in the coming years. The speedy return to a pre-covid position would be an astonishing turn of events if realized. The pandemic had raised serious concerns that Quebec, other provinces and the federal government would be saddled with huge debt loads possibly taking a decade or more to trim back. Those concerns now look misplaced for Quebec. The province is in fact back on track to achieve some of its longer-term debt reduction targets. Those targets were instated more than a decade ago to curb Quebec's heavy debt load—still among the heaviest in Canada.
---
---
Financing program trimmed back modestly
The government has revised down this year's financing program by $3.9 billion to $24.5 billion. As of November 9, it had realized 67% ($16.5 billion) of its plan. The program will total $30.9 billion in 2022-23, and average $31.7 billion in the following three years.
---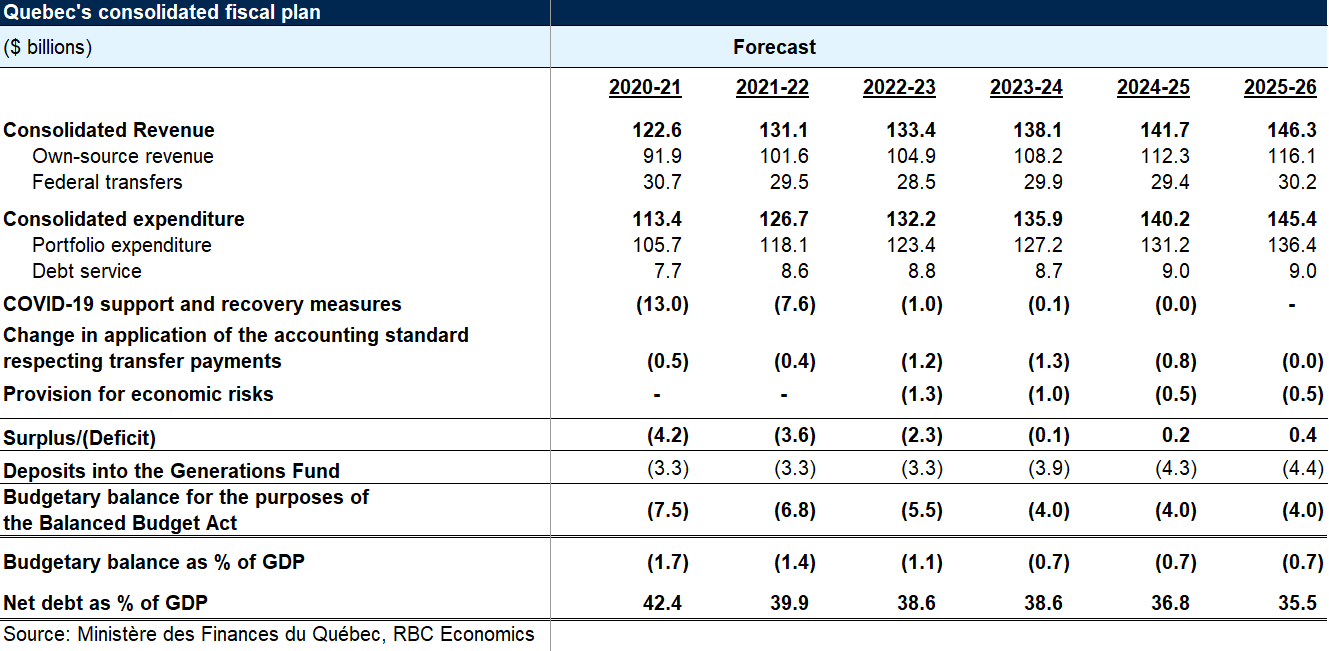 ---
Robert Hogue is responsible for providing analysis and forecasts on the Canadian housing market and provincial economies. Robert holds a Master's degree in economics from Queen's University and a Bachelor's degree from Université de Montréal. He joined RBC in 2008.