Home sales are softening across Canada's four largest markets, most notably in Toronto
Benchmark home price growth slowing, signaling a market shift; prices may have peaked in Toronto
A lower sales-to-new-listings ratio signifies a slowdown of pandemic buying frenzy in Toronto, Montreal, and Calgary
Higher rates will be more burdensome to those shopping for homes in Canada's priciest markets
---
---
All evidence points to the Bank of Canada's rate tightening cycle starting to have an impact, as recent data released from Canada's four largest housing markets show early signs of softening demand.
Home resales have fallen in major markets since February's eleven-month peak, as buyers rushed to get into the market ahead of rising interest rates. Sales declined in Toronto (down 26% relative to March), Calgary (-22%), and Vancouver (-17%). Apart from the early pandemic shock, Toronto's decline in home sales was the sharpest single-month decline since the market correction in the late 80s.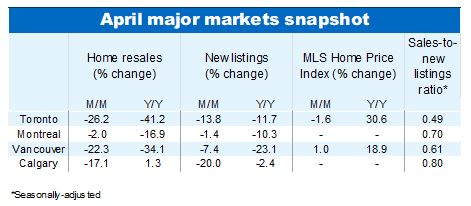 ---
As prospective buyers begin to move to the side-lines, price growth has started to cool. Composite benchmark prices still rose another 1% in Vancouver, but that is half the average pace over the prior 6 months. Prices outright declined in Toronto – the first drop since the Great Recession of 2008/09). While we expect to continue to see prices trend higher, the pace of growth will slow, and we are already seeing this in Toronto and Vancouver. Both regions appear to have achieved peak growth in January.
Fewer Canadians are listing their homes and those that are, are seeing them sit on the market for longer. But sales-to-listings ratios still declined across three of the four major markets, most notably in Toronto and Vancouver, but also in Montreal, as the pandemic buying frenzy eased. A ratio of 0.6 or higher indicates a seller's market. Toronto's price plunge has now positioned the market into a more balanced territory while the other two markets trend in this direction. Calgary is the exception to the rule, where the ratio is rising higher into seller's market territory pointing to further upward price pressure.
We previously pointed to a moderation in the rate of growth of Canada's composite house price index growth as the first hint of a market shift. Early April data provides additional support that this shift is taking place. With the Bank of Canada continuing to hike rates quickly and aggressively, we may have already reached peak prices in Toronto (and will soon be showing signs of prices trending down in other major markets). Affordability issues will persist in Canada's most-expensive markets as the burden of higher mortgage rates pushes many would-be buyers out of these markets.
---
---
Read the full report
Carrie Freestone is an economist at RBC. She provides labour market analysis, and is a member of the regional analysis group, contributing to the provincial macro outlook.