Highlights:
Nova Scotia will face a $585 million deficit, one of the lowest pandemic deficits as a share of GDP across all provinces
Expenses will grow to $12.5 billion (+2.5%), with an emphasis on capital expenditure and health and wellness
Revenues are up 4% to $11.8 billion as economic recovery bodes well for higher tax revenues
Debt-to-GDP will reach 37.9% this fiscal year, increasing to 40.1% over the next 4 years
Nova Scotia has implemented a path to balance, eliminating the deficit by FY 2024-25
---
---
One year after the pandemic ravaged the global economy, Nova Scotia has weathered the fiscal and economic storm comparatively well. As Finance Minister Kousoulis asserted, Nova Scotia "fared better than most." Starting the pandemic off on strong footing, the province was headed for a fifth balanced budget before the pandemic hit and threw the government off course resulting in a $706 million deficit in FY 2020-21. The Finance Minister emphasized that the 2021 Budget contained a short-term deficit, not a structural deficit.
Even in the midst of a pandemic budget, Nova Scotia's budget theme is consistent with pre-pandemic budgets: capital investment will drive growth. Investment in public infrastructure will help the province return to balance, but not without amassing additional debt. Under current low-interest conditions, higher debt levels needed to finance the infrastructure investment are historically easy to manage. But as growth strengthens and interest rates pick up, Nova Scotia will have to manage its longer-term debt burden. Once we emerge from the pandemic, we will look for guidance on a fiscal anchor.
---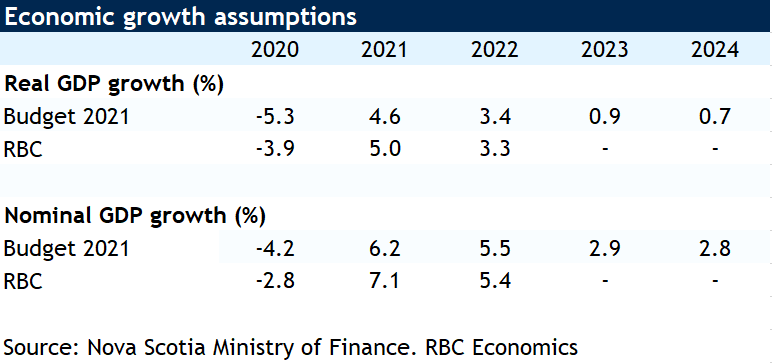 ---
Historic investments drive expenditures to $12.5 billion
Nova Scotia's expenditures will grow by $309 million (+2.5%) in FY 2021-22, to $12.5 billion (excluding consolidation and accounting adjustments). Just under $350 million of the province's operating expenses will be allocated to the fight against COVID-19. By the end of FY 2021-22, Nova Scotia will have spent close to $1.1 billion on pandemic response and recovery. Minister Kousoulis emphasized that economic recovery starts with containing the COVID-19 pandemic. The budget conveyed his message loud and clear, with the expense allocation to health and wellness topping $5 billion for the first time in a Nova Scotia budget. This year, an additional $276 million will be spent by the department in response to COVID-19, earmarked for personal protective equipment, contact tracing, and vaccine distribution with all Nova Scotians expected to receive their first jabs by the end of June. The budget also allocates a record $1 billion for home care and continuing care, up 13% from last year.
---
---
The Department of Education and Early Childhood Development and Department of Community Services also received sizeable allocations this year ($1.6 billion and $1.1 billion respectively) for programs such as the Safe Return to School and disability supports. Also noteworthy was Nova Scotia's adjustment to income assistance. This historic investment in the program will cost the province $35.2 million in FY 2021-22 and result in a $100/month increase to the standard household payment received by those on income assistance starting in May. This translates to a 12-20% increase in monthly income for three-quarters of income assistance recipients.
As the province works to build back, it launched a $1 billion investment in capital projects including $178 million to the largest health care redevelopment in the province's history. Nova Scotia will spend just over half of that on the construction and repair of the province's hospitals. Also included in the infrastructure plan is over $217 million to renovate schools and $467 million to invest in 100-series highway infrastructure. Kousoulis identified capital spending as a means to stimulate economic activity during the recovery.
Economic Recovery will fuel higher revenues
Revenues will increase by $437 million (+4%) in FY 2021-22 to $11.8 billion, largely due to higher tax revenues. As the economic recovery progresses, higher levels of consumer spending and increased volumes of tourism will boost provincial HST revenues (expected to grow 6% this fiscal year). Personal income tax and corporate income tax revenues will also rise this year (by $106 million and $87 million respectively). Rebounding oil prices (and correspondingly, energy product prices) has meant Nova Scotia Motive Fuel Tax revenue will bring in an additional $6 million this year. Although revenues from federal sources (transfers) will fall by $123 million, or 3%, largely due to the winding down of COVID-19 relief grants.
Debt levels will grow alongside capital investment expenditures
Net debt is expected to reach $18 billion by the end of FY 2021-22, a $1.3 billion increase from the previous fiscal year. Budget 2021 projects the net debt-to-GDP ratio will reach 37.9% this fiscal year. In the medium term, the province's debt levels will grow, with debt-to-GDP reaching 40% by FY 2024-25. This increase in net debt over the medium term is largely a function of infrastructure investment as part of the province's capital plan. Budget 2021 did not include a fiscal anchor, so we await additional guidance on Nova Scotia's long-term trajectory with respect to debt accumulation.
Borrowing requirements for FY 2021-22 are penciled in at $2.2 billion, $18.8 million lower than this past fiscal year. In FY 2020-21, Nova Scotia faced a borrowing requirement over $700 million above that estimated in the pre-pandemic budget. Debt servicing costs are expecting to fall by $31.6 million (-4.3%) this fiscal year, to $711 million. If interest rates rose 1 percentage point, debt-servicing costs would rise by roughly $15 million for a full fiscal year according to the government's estimates. Under the current low-interest climate, debt is relatively inexpensive for the province to carry. But as economic growth ramps up and interest rates rise, significant levels of debt could become more burdensome in the long term.
Nova Scotia has the right idea when it comes to promoting economic growth through capital investment, and the province has already seen a significant rebound in economic activity and jobs. But in the long-term, Nova Scotia will have to manage its debt burden as interest rates will not stay this low forever. The province's next chapter is being written now.
---
---