A severe labour squeeze is choking the ability of Canadian businesses to ramp up production.
A recession in 2023 might temporarily ease worker shortages—but they'll return as Canada's population ages.
An influx of educated immigrants could offer some relief, but their skills have historically been under-utilized.
And Canadian firms have the financial firepower to spend more on capital investments that would boost workforce productivity.
The bottom line: a strong flow of immigrants, better integration of their skills and more capital investments are key to addressing the long-run problems underlying Canada's labour crunch.
---
Labour markets haven't been this tight in decades
In nearly every Canadian industry and across every sector, a historic labour shortage is hitting companies hard. As of June 2022, businesses posted almost 70% more job openings in Canada than pre-pandemic. But these firms were competing for 13% fewer unemployed workers than were available in February 2020. The impact is severe: more than half of Canadian businesses say labour shortages are limiting their ability to increase production—up from 40% before the pandemic and 30% a decade ago.
The problem is even more pronounced in the United States, where there were nearly two vacant jobs for every unemployed worker in May. A key factor behind the problem is a rapid rebound in economic activity from pandemic lows. Massive stimulus to households over the past few years has also fuelled a surge in demand for goods and services—and the workers that produce them. Wages are moving higher as a result, adding to persistent and rising inflation.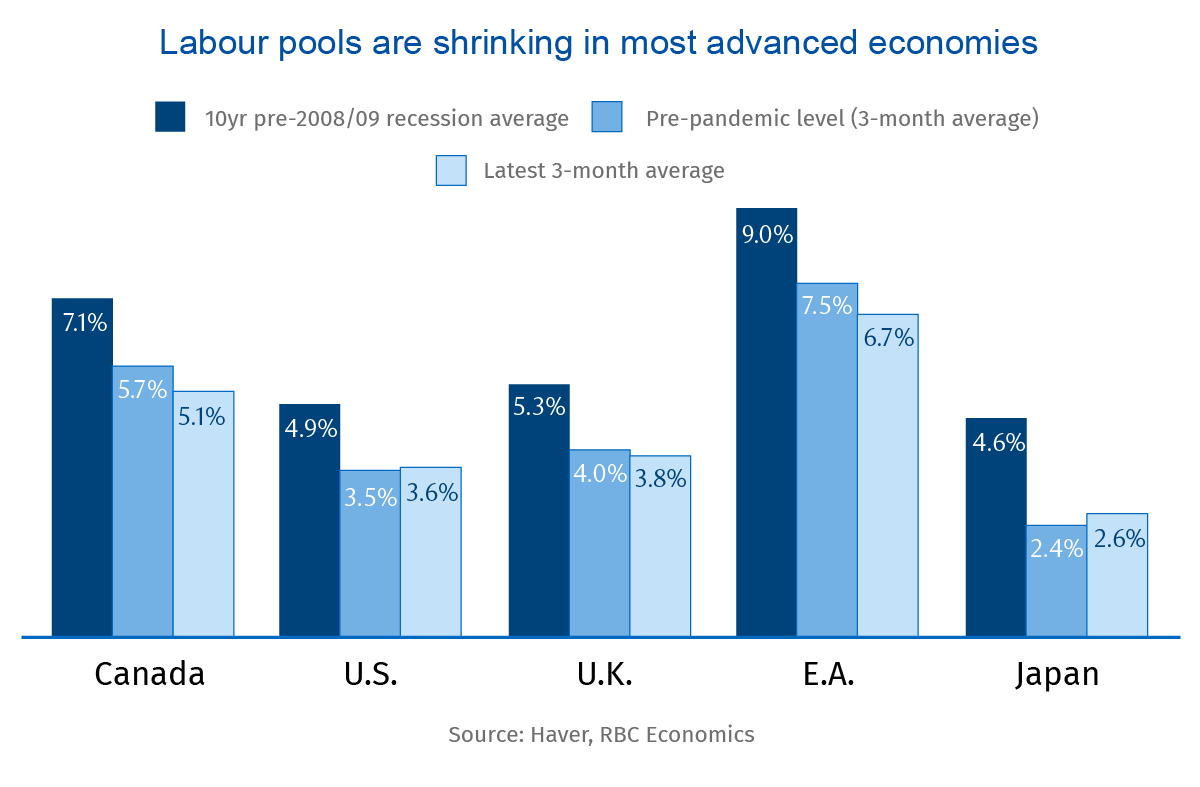 A recession next year won't end the labour crunch
Global central banks are moving to curb elevated demand by aggressively hiking interest rates above the long-run "neutral" range (or what's considered necessary to maintain full employment and stable inflation). The Bank of Canada took its boldest step in a quarter century on July 13 when it increased rates by a full percentage point. By October, the bank is expected to raise rates even further to 3.25%—enough to push the economy into a moderate recession in 2023 and drive the unemployment rate to 6.6% from 4.9% in June. That'll ease near-term pressure on businesses struggling to hire.
But the root of Canada's labour crunch predates the pandemic, and will outlive the next downturn as well. Indeed, a greying population will continue to create disruptions that extend beyond the shorter-run economic cycle. The large post-WWII baby boom generation began to hit retirement age more than a decade ago. That alone has pushed the share of the population actively working or looking for work (those aged below 65) sharply lower. And Canada is still only about half way through that wave of labour force exits. By the end of this decade, labour force participation is expected to fall to levels not seen since the 1970s. The lower the labour force participation rate, the more severe the economic and fiscal strains will be.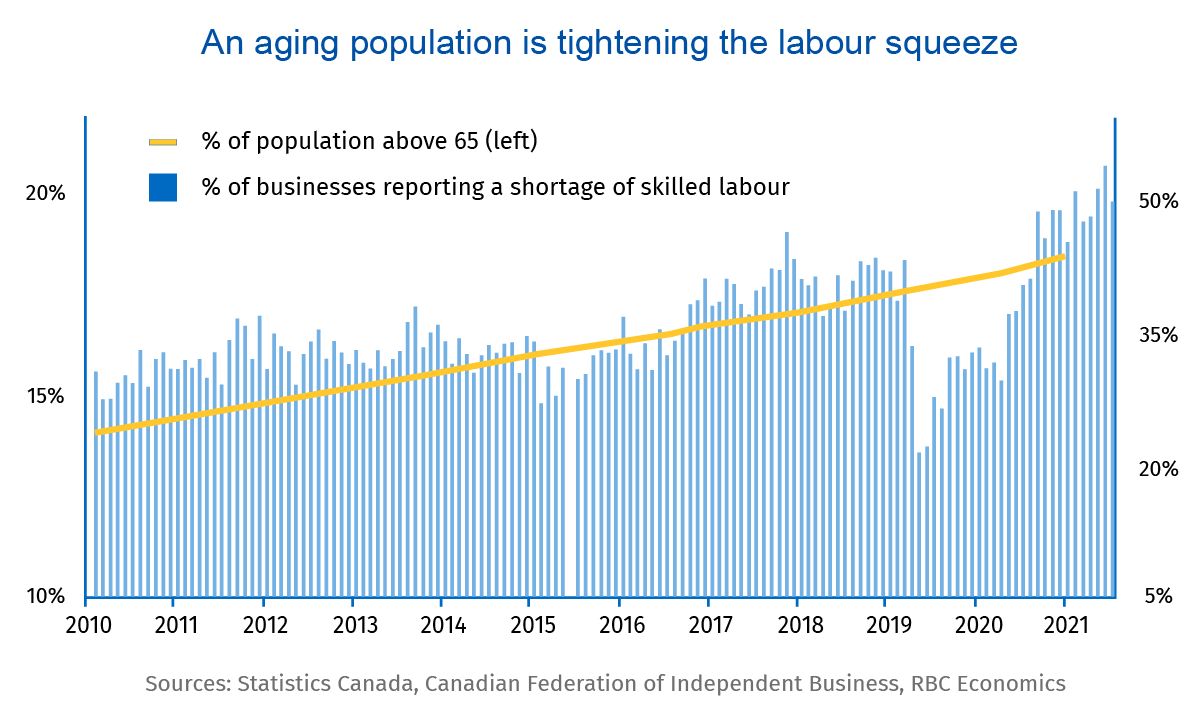 What's needed? An influx of immigrants and a focus on skills matching
To keep the economy healthy, Canada needs an infusion of immigration. As we noted in Immigration Nation, decades of low birth rates mean the population of those born in Canada is already set to fall on an annual basis by 2030. And the Canadian-born 'working-age' (15-64) population has already been declining for almost a decade. That leaves businesses entirely reliant on immigration for new hires.
Canada's immigration policy has actively recruited highly-skilled immigrants. The share of newcomers with completed post-secondary education (82%) is above that of the population born in Canada (76%). This should bode well for enhanced productivity. But Canada isn't fully putting these skills to work. Immigrants with a university degree or above are 43% are more likely to work in jobs where their education level isn't required, compared to their Canadian born counterparts.
Better integration of this talent is critical to boosting the productivity of the Canadian workforce. This is especially true given the shift to higher skilled industries during the pandemic.
Greater investment can boost productivity
To ease the labour crunch, we'll also need to better utilize and get more productivity out of the workforce we have. Improving childcare affordability for example, can help close the remaining labour force participation gap between men and women over the medium to long term. Canadian businesses are also responding to worker shortages by increasing capital spending. Imports of machinery and equipment, key indicators of capital investment, are 25% above pre-pandemic levels as of May. But businesses have the power to do more. Indeed, non-financial corporations have built a cash stockpile worth a third of annual Canadian GDP. More of that can be channeled to capital improvements.
Over the long run, an ongoing flow of immigrants, better integration of their talents and rising capital investment will prove key in successfully addressing the issue of systemic labour shortages in Canada.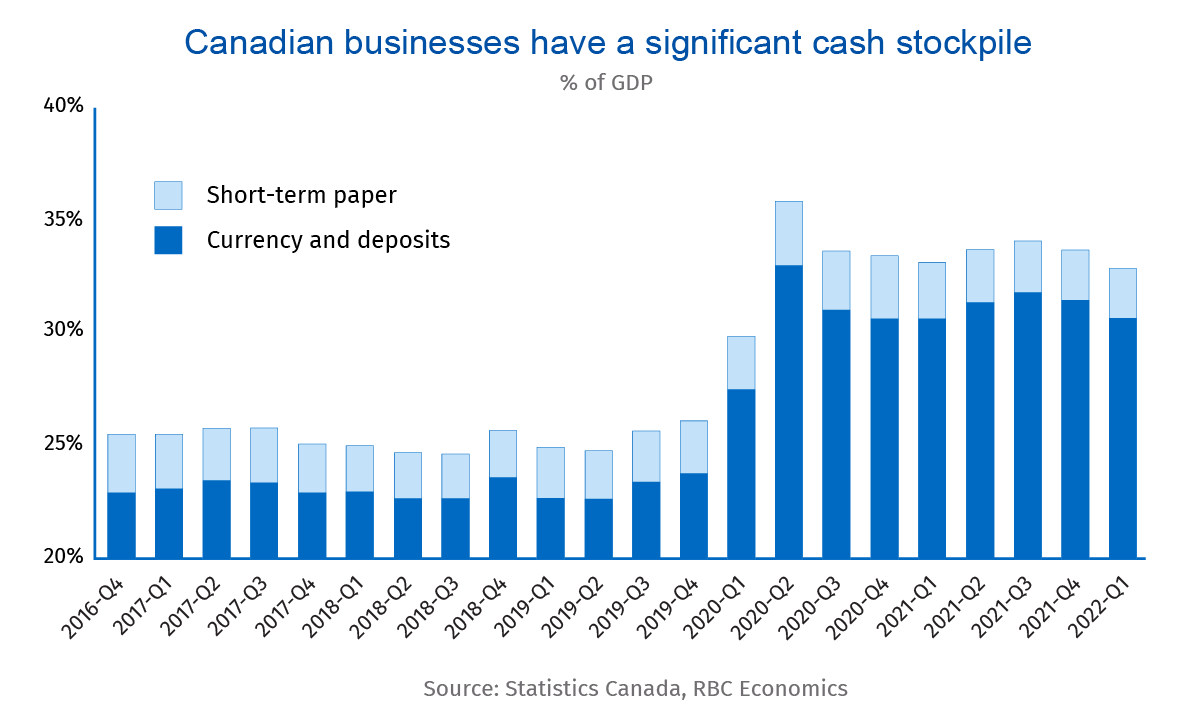 ---
Nathan Janzen is a member of the macroeconomic analysis group. His focus is on analysis and forecasting macroeconomic developments in Canada and the United States.
Claire Fan is an economist at RBC. She focuses on macroeconomic trends and is responsible for projecting key indicators on GDP, labour markets as well as inflation for both Canada and the US.
Naomi Powell is responsible for editing and writing pieces for RBC Economics and Thought Leadership. Prior to joining RBC, she worked as a business journalist in Canada and Europe, most recently reporting on international trade and economics for the Financial Post.
---