Food is again at the forefront
It's reshaping the economy, as food prices take inflation higher. It's redefining national security, as countries reckon with the prospect of strategic supplies. And it's resetting the climate conversation, as producers and consumers grapple with the need for more food with fewer emissions.
The world needs a new Green Revolution, and Canada can play a leading role. Indeed, we must.
By 2050, we must increase our food production by a quarter just to maintain our contribution as the world's population swells. We need to grow more for humanity, with less impact on the planet. This can be Canada's moonshot for 2030 and beyond, if we can harness the imagination and enterprise of Canadians in every sector and geography.
The coming age of disruption, in agriculture and food systems, compelled RBC, BCG Centre for Canada's Future and Arrell Food Institute at the University of Guelph to take on this project to help inform and inspire Canadians to see both the urgent need and growing opportunity that will come with more sustainable food systems.
In our report series, we outline how we can build those systems by:
Using breakthrough technologies as well as some well-established practices,
Attracting and training a new generation of farm and food innovators,
Investing in farmers to develop new economic incentives that reward what they produce as well as what they preserve,
Creating a national policy framework to unite all key constituents, align our emissions measurement and reduction goals, and integrate with industries that intersect with agriculture,
And boldly declaring to the world that Canadian agriculture can help everyone move more quickly to a world that has solved the climate crisis.
How we grow, process and consume food is not the key cause of our climate crisis. It can be a key solution. And with the right investments, it can become a made-in-Canada, farmed-in-Canada solution for the world.
The Next Green Revolution: How Canada can produce more food and fewer emissions
As a major global agricultural producer, Canada has both a responsibility to help alleviate the global food crisis and an opportunity to expand our presence in international markets. To accomplish this, we'll need to produce more food, with fewer emissions.
The world's food systems are in crisis. Global food demand is set to soar as the population rises to 9.7 billion in 2050—a 26% jump. At the same time, climate change is disrupting the agricultural productivity of many major producers and the war in Ukraine has cut off the flow of fertilizer and food to key markets.
The Transformative Seven: Technologies that can drive Canada's next green revolution
Technology will be key to the low carbon, sustainable food system of the future. And this is Canada's opportunity to unlock it.
Seven key innovations or "ag-techs" can both meaningfully reduce emissions and present opportunities for Canada to lead. Some, like anaerobic digesters, carbon capture utilization and storage, and precision technology are ready to scale now. Others, like vertical farms, plant science, and cellular agriculture will be key solutions in the medium- and long-term.
Fertile ground: How soil carbon can be a cash crop for the climate age
Canadian farmers manage one of the world's largest inventories of agricultural land. By embracing sustainable practices, they can turn that land into a "carbon sink", cutting emissions and improving air and water quality, soil health and biodiversity.
But while the promise of sustainable farming is robust, the economics currently underpinning it are not. Insetting and government funding can help inject the capital needed to compensate farmers and scale sustainable farming. To optimize them, we'll need to overcome some key obstacles, including those related to measurement.
Farmers Wanted: The Labour renewal Canada needs to build the Next Green Revolution
Canada's agriculture sector is on the cusp of one of the biggest labour and leadership transitions in the country's history. Over the next decade, 40% of farm operators will retire. Meantime, a shortage of 24,000 general farm, nursery and greenhouse operators is expected.
We propose a three-point plan, focused on short, medium and long-term policies, that can help Canada find the farmers it needs. It begins at our borders, where we'll need to accept 30,000 permanent immigrants over the next decade to establish or take over farms and greenhouses. It continues with boosting our post-secondary education system and R&D spending.
The Growing Challenge: a Disruptors podcast series
The Growing Challenge is a special, three-part series on Disruptors, an RBC podcast, which tackles a critical question for the 2020s: how can Canada help feed the world's growing population, while simultaneously slashing our carbon emissions to meet our nation's Net Zero goals?
Disruptors hosts John Stackhouse and Trinh Theresa Do visited farms and production facilities across the country, and spoke with an array of experts working up and down the food supply chain, including farmers, academics, scientists, and restaurateurs.
We'll take you from the field, to the processing facility, to the dinner table, to learn how we can harness new technologies and processes to improve efficiency, cut emissions, and reduce food waste. Solving this challenge could be Canada's moonshot—and a defining moment for our country.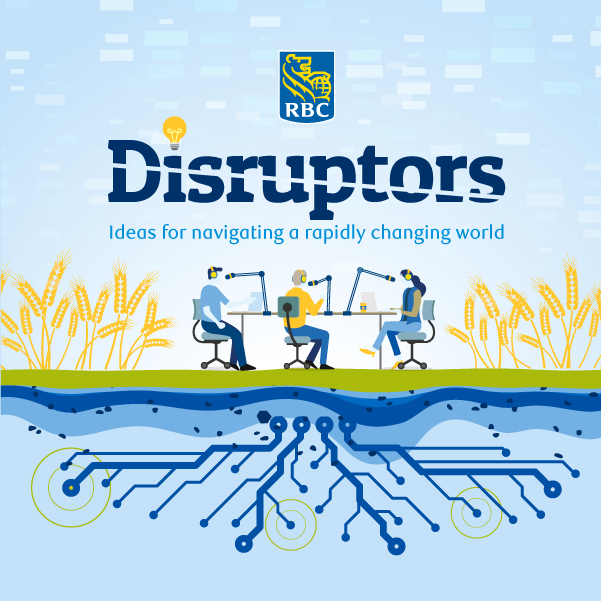 ---