Preparing For End of ICE Age, Quebec's EV Win, Lego's Plastic Struggle
Quebec did it again, snagging another clean-tech high-flyer as it builds out an electric vehicle manufacturing hub. Swedish battery maker Northvolt AB picked Saint-Basile-le-Grand in southwestern Quebec for a US$7-billion electric vehicle battery production facility. Supported by provincial and federal government, it's the largest private sector investment ever made in Quebec, as the province elbowed out other North American jurisdictions with its cheap, clean hydropower. Ontario should take note.
CLIMATE IN ACTION
Emissions-counting California. You can move out of The Golden State (350 major companies moved out of California over the past three years), but you must still account for your emissions. The state's senate passed a law this month that requires companies of a certain size that do business in the state to publicly disclose their CO2 emissions. This includes emissions of their suppliers, customers, contractors and even commuting workers. California is also suing Big Oil on what it alleges is climate "deception."
Mind your climate language. New EU rules will ban unsubstantiated climate claims on consumer products. Key phrases such as "green," "nature's friend," "nature-friendly," "eco," "climate-neutral," "biodegradable," and "energy efficient," are being targeted, as the EU aims to rein in wild sustainability claims in the consumer sector. The changes will come into force by 2026.
Lego can't break-up from oil. The Danish toy brickmaker had pledged to ditch oil-based plastics two years ago in favour of recycled plastic bottles. But the recycled polyethylene terephthalate (RPET) would have a bigger carbon footprint over the product's lifetime, the company discovered. It's also been hard to replicate the bricks' "clutch power"—the ease of putting together and pulling them apart—with alternative components. The company is trying to cut its carbon footprint in other ways.
Climate poll: Around 40% of Canadians are willing to act on climate change even if it comes at a financial cost, according to a new Leger poll. The survey of 1,500 Canadians suggests nearly three quarters believe climate change is responsible for extreme events, and 65% believe their frequency will rise in the future.
---
TRANSPORTATION
Preparing For The End Of ICE Age
Joe Biden's emissions-busting Inflation Reduction Act is facing a big test in Michigan. The U.S. auto industry is all in, committing US$210 billion to build a North American electric vehicle supply chain, but auto workers at three American automakers are on strike, concerned about becoming extinct as the ICE (internal combustion engine) Age ends at some point in the future.
The United Auto Workers union is seeking higher wages and job security amid Ford, General Motors, and Stellantis's generational shift to electric vehicles. In a show of support, Biden even joined the picket line.
Strikes Could Disrupt Projected U.S. EV Momentum
U.S. electric vehicle sales forecast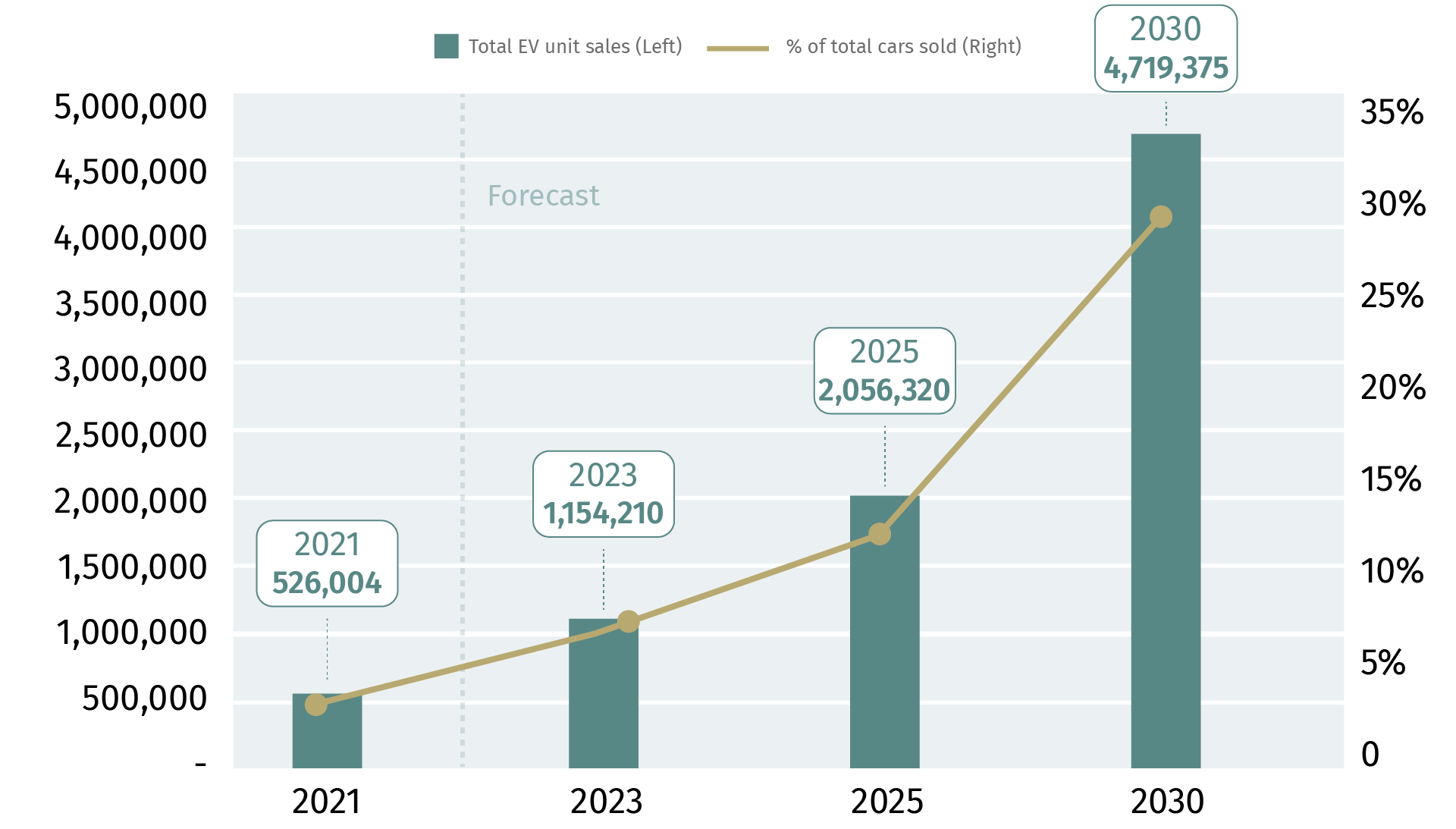 Source: EV Adoption
The union's biggest non-monetary concern? Mass redundancies as battery-powered vehicles don't need labour-intensive mufflers, catalytic converters and fuel injectors assembly lines. It's what the International Labour Organization defines as "just transition," to ensure greening the economy creates "decent work opportunities" and leaves no one behind.
The Big 3—challenged by the price-cutting, non-unionized EV leader Tesla—are fighting back. Union demands "would force Ford to scrap its investments in electric vehicles," Jim Farley, Ford's CEO, warned. Ford has already halted plans to build a US$3.5 billion EV battery plant in Michigan amid financial pressure from the strikes.
A prolonged strike has the potential to decelerate the EV car sales, which now account for 7% of all U.S. car sales and set to exceed a record 1-million-unit sales this year. While there is enough EV stock for now, a protracted strike could add to costs and delay EV rollout at a time when the Big 3 are scrambling for market share.
The integrated nature of the North American auto industry means downtime at U.S. plants would likely ripple through Canada's auto supply chain, too. Canada avoided its own "just transition" moment after Ford and the Unifor labour union agreed on a three-year contract that included the highest wage increases in the country's auto bargaining history. Equally crucial, it "provided protections during the (electric vehicle) transition," according to Lana Payne, Unifor president.
The auto industry, famous for its just-in-time manufacturing acumen, will also need to ensure it's just in transition, too.
---
CHART OF THE WEEK
The Methane Menace
Slashing methane emissions is Canada's next big climate challenge. That was Prime Minister Justin Trudeau's message at the UN Climate Ambition Summit last week. Ottawa is working on new rules before the year-end that will accelerate Canada's goal of slashing methane from the oil and gas sector by 75% from 2012 levels by 2030, the PM said . Methane is considered 86 times more harmful than carbon dioxide over a 20-year period. While agriculture remains a significant source of methane emissions, government projections show oil and gas players will have to do most of the heavy lifting over the next 7 years.
Canada's 2030 Methane Pledge
Oil & gas to drive emission cuts (Mt CO2e)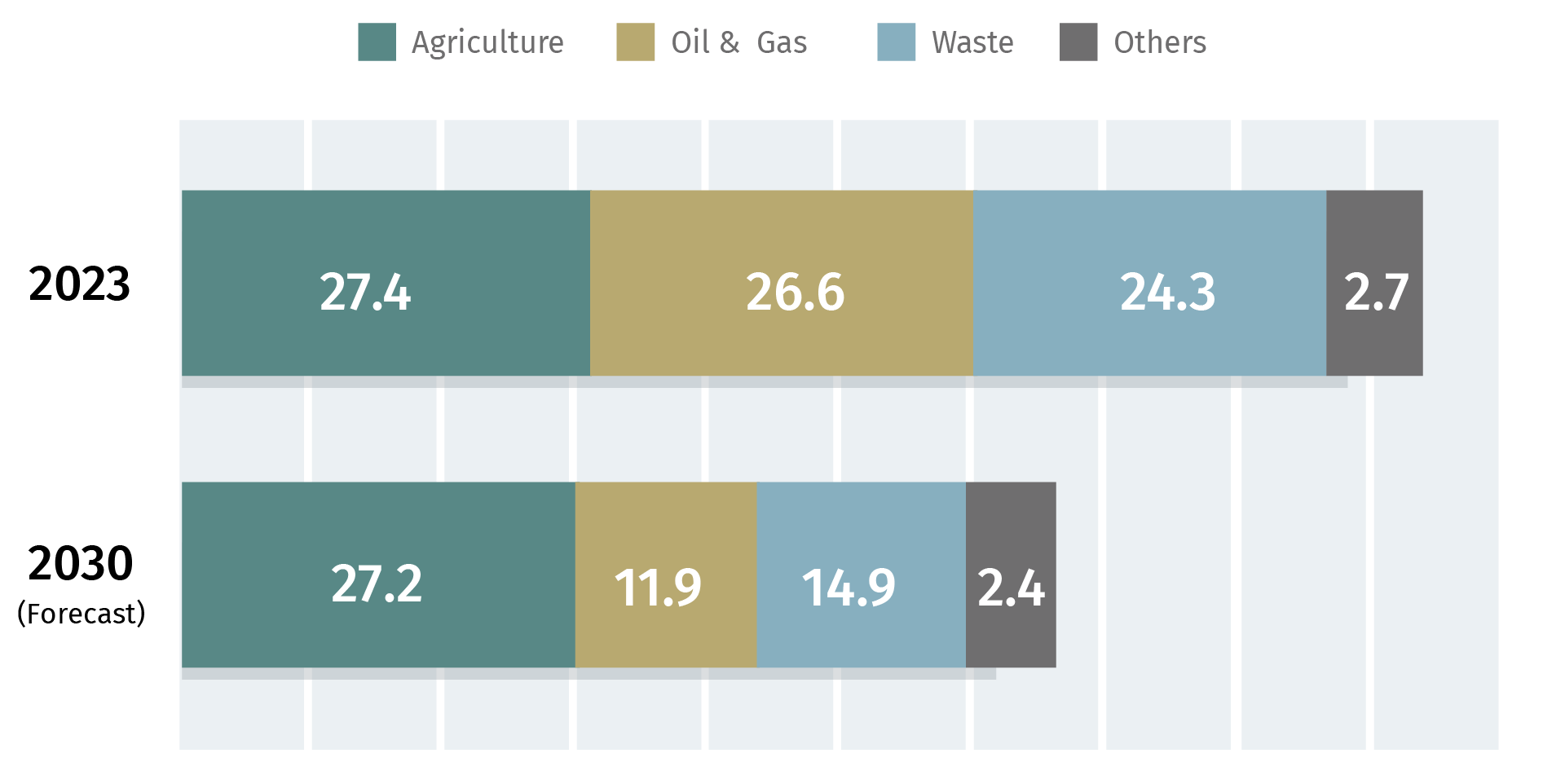 Source: Government of Canada
---
COP 28
Big Energy Disconnect
A great disconnect between major energy powers is unravelling. That was evident last week when some international climate leaders called for a rapid energy shift to renewables at the UN General Assembly and Climate Week in New York. Meanwhile, major energy producers, including the Saudis, chose an international petroleum event in Calgary to warn of the consequences of ditching oil and gas too soon.
Amid the tensions, the International Energy Agency's latest Net Zero Roadmap: A Global Pathway to Keep the 1.5 °C Goal in Reach is set to further harden positions.
The OECD-funded agency projects tripling of installed renewable energy capacity by 2030 and doubling the annual rate of energy intensity improvements to cut fossil fuel demand and curb emissions.
A record US$1.8 trillion will pour into clean energy this year. But it's not enough–renewable energy investments must rise to US$4.5 trillion a year by the early 2030s to meet the IEA's Net Zero forecast.
IEA's Pathway to Net Zero
Hitting climate targets will demand a major energy shift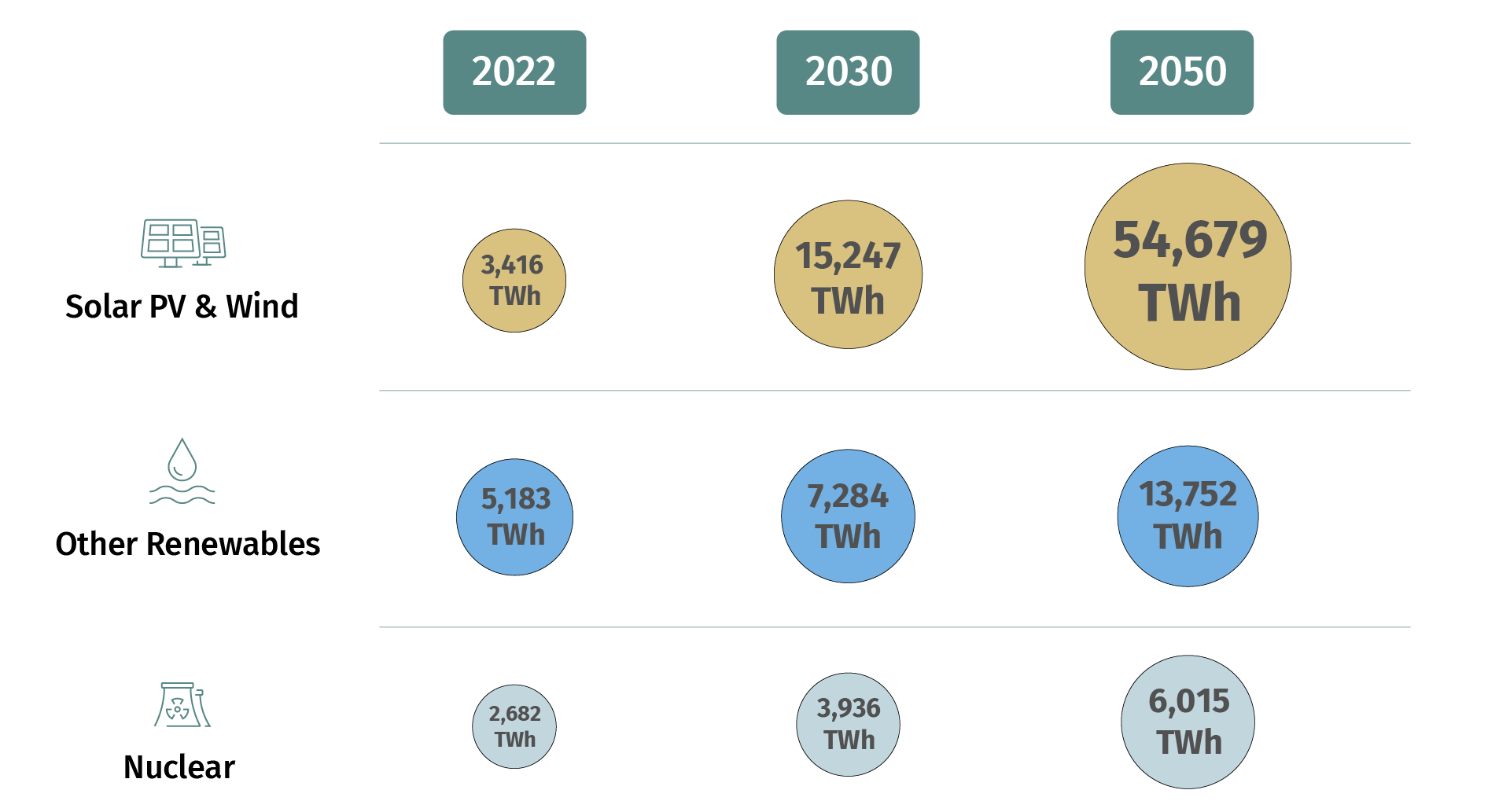 Twh=terrawatt hours
Source: International Energy Agency
The IEA says the world has the tools to ramp up renewables even faster, the agency says. Well-designed policies that focus on efficiencies and expand renewable energy are key to driving fossil fuel demand down by 25% by 2030, in the IEA's most ambitious climate scenario (called the Net Zero Emissions by 2050 Scenario).
The IEA's latest report foreshadows its landmark World Energy Outlook report in October that's expected to project peak demand for fossil fuels by 2030.
The disconnect between IEA projections and what energy companies see in the market could cause slow down investment flows in various energy sources at a time when "urgency, agency and equity" are needed to fight climate change.
Expect both reports to be key talking points at COP28 in Dubai, UAE, in November.
---
ZEROING IN
2.1%
The rise in Canada's total emissions in 2022 compared to the previous year, according to an early estimate of national emissions. Still, emissions were 6.3% below 2005 levels, suggesting some progress in Canada's goal to cut emissions by 40-45% below 2005 levels by 2030.
---
Climate Signals is curated by Yadullah Hussain, Managing Editor, RBC Climate Action Institute, with contributions from the Institute's experts.
Previous Articles: