Red-Hot Cooling Market, Peak Plastic & G7 Clean-Energy Blueprint
ENERGY
Cooling Market Heats Up
Temperatures rising 1.5C persistently above pre-industrial levels will spark more intense wildfires, floods and extreme weather—and more demand for air conditioners, perhaps even mandated by law. As energy demand from air conditioning triples by 2050, the segment's emissions could double in the absence of cleaner grids and efficient cooling technologies.
The Ontario Human Rights Commission is pushing for protection against heat for tenants in the province (currently air conditioning is not deemed a vital service in the Residential Tenancies Act). Already, around 64% of Canadian households had some type of air conditioning in 2021, compared to 55% in 2013 , and rising immigration levels and stickier weather could propel demand. It goes beyond discomfort: A heat dome in 2021 led to the deaths of 619 people, according to British Columbia's Coroners Service.
Other parts of the world could see even more intense conditions, with populous South Asia expected to bear the brunt of climate change. The World Bank says "equitable cooling" will be vital as rising heat and humidity could risk up to 4.5%-5% of GDPs of India, Pakistan and Bangladesh—for a combined population of nearly 1.8 billion.
As temperatures—and incomes— rise in India, the International Energy Agency (IEA) expects the country's cooling needs to exceed 1 billion units by 2050 from 67 million today. China's A/C unit stock will nearly double to 1.4 billion.
A/Cs already account for nearly 4% of global greenhouse gas emissions. With many Asian nations still burning coal for electricity, the pivot to natural gas, nuclear and renewables will need to be accelerated to beat the heat and rein in global warming.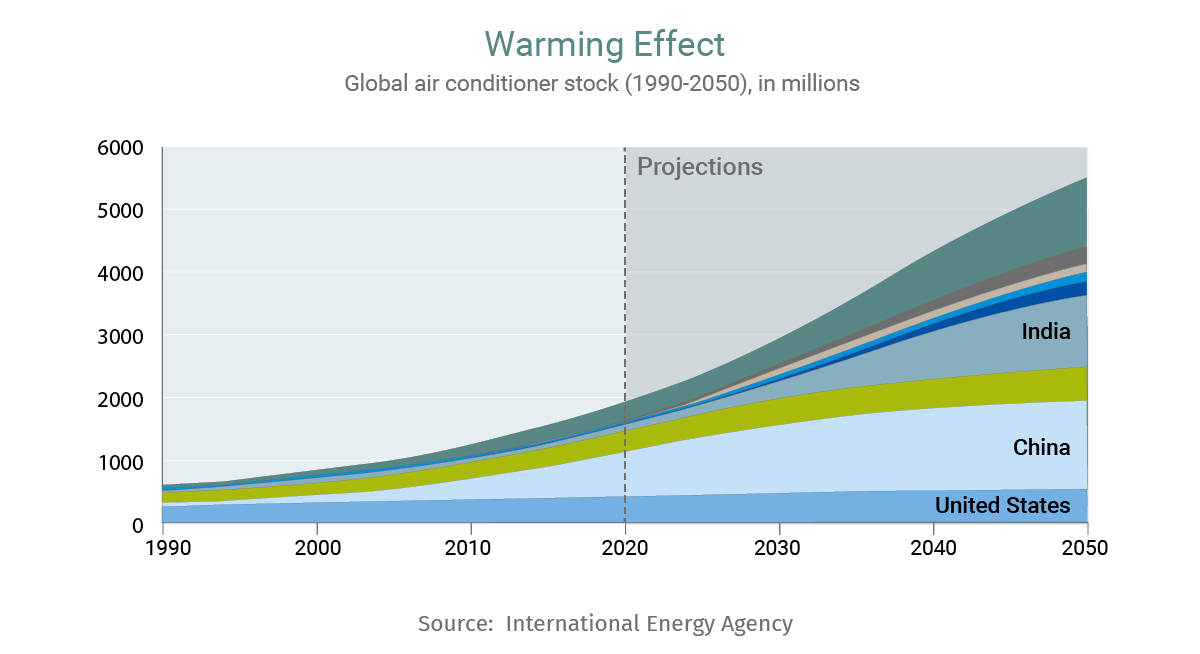 ---
PUBLIC POLICY
Five Climate Ideas From D.C.
Critical minerals are the new oil, and quickly reshaping America's worldview—Canada better be prepared, says RBC senior vice-president John Stackhouse after a visit to Washington earlier this month. Here are his top 5 climate observations from the U.S. capital that has implications for Canada:
1. The great pivot. It's becoming clear that Joe Biden wants his presidency to be defined by America's ability to shift away from China. Some of that is rooted in his climate policies, and the Inflation Reduction Act's gargantuan investments in hydrogen, carbon capture and electric vehicles. But a greater force at play is America's security concerns that it's become too dependent on China for everything.
2. More Arctic tensions. The U.S. is mapping out critical mineral opportunities in Alaska, while Russia is doing the same on the other side of the Arctic Sea. Canada will need to move fast to develop and export our share if we want to be part of the new U.S. green supply chain.
3. Renewed trade tensions. Don't take for granted that the U.S. will renew the Canada-U.S.-Mexico Agreement without a fight. Subsidies to encourage green growth could be an easy target, and even though Washington is doing the same, contradictions have never stood in the way of U.S. trade policies.
4. Energy security as national security. Who would have expected Joe Biden to be President Drillbit, but little matters more in Washington right now than oil and gas and their role in domestic inflation. Any overt move by Canada to curtail energy supplies could add to #3.
5. More demands for infrastructure. Biden's efforts to re-shore manufacturing require massive investments in ports, roads and digital corridors, and Canada has a lot to offer, from our construction and engineering companies to institutional investors. This could be a moment to help our ally, while also helping ourselves.
---
ENERGY
Recycle Economy: How To Cut Plastic Pollution
Often the scale of the climate challenge—in tonnes of oil equivalent, parts per million, and kilojoules—is hard to get our heads around. Take the plastic industry, for example: 430 million metric tonnes is produced each year. It's gobbledygook unless broken down in human terms: that's around 50 kilograms for each of the 8 billion people on the planet, or the weight of two full suitcases airlines would allow (without charging extra fees).
The UN Environment Program (UNEP) explores three ideas to help solve the seemingly insurmountable mountain of plastic piling up and help clean up the oceans.
1. Plastic Design 2.0: Cars, homes, air fryers, laptops and modern essentials have plastic components—with few cheaper alternatives available. UNEP argues that better design decisions (such as dyes, material combinations and size) could help recycle majority of the plastic.
Solution?: Establish design rules that favour reuse or recycle and standardize formats that can be shared across companies.
Result: Recycling profitability could double and lead to a 48% drop in greenhouse gas emissions, UNEP projects.
2. Build collection infrastructure. Globally, more than two billion people are not connected to waste collection systems.
Solution?: Aligning the collection and sorting processes with recycling systems can ensure recycled plastic matches the quality, consistency and grade requirements for new plastic. Governments can de-risk recycling infrastructure with long-term offtake agreements.
Result: "Mechanical recycle," based on proven technologies, and chemical conversion tech (controversial due to its higher eco-footprint) can recreate plastics from existing materials.
3. One country's trash…: The UNEP recommends doubling down on recycle trade economics.
Solution: Legally binding frameworks for trade in plastic waste will create transparency, curb illegal dumping, and save countries from embarrassing situations (Read the Canada-Philippines waste dispute).
Result: Powerful incentive for the private sector, governments and other stakeholders to facilitate and develop recycling technologies.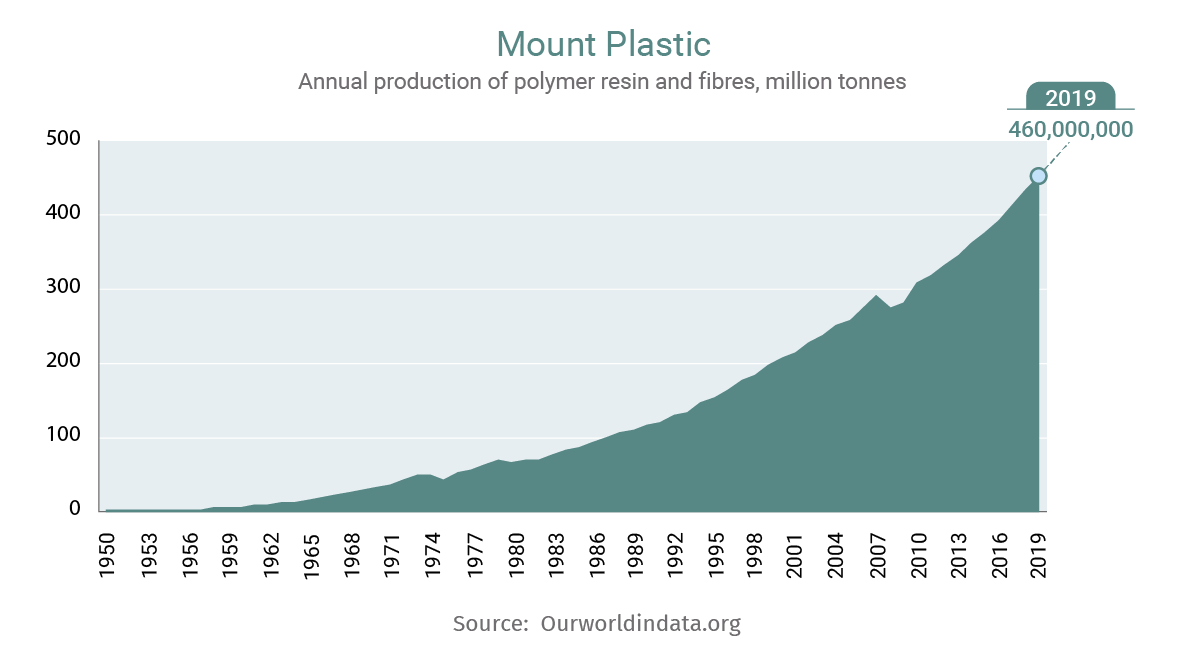 Further reading:
UNEP: How the world can end plastic pollution
---
ZEROING IN
Breaking Up From China's Clean Energy Supply Chain
About that decoupling from China: the country will still be home to 65% of global clean technology manufacturing capacity by 2030, according to a new International Energy Agency forecast. While the U.S. Inflation Reduction Act, Canada's green incentives and Europe's Net Zero Industry Act will expand clean energy infrastructure in the West, China's dominance in clean energy supply chains will remain intact for the foreseeable future, according to a new International Energy Agency forecast:
| | |
| --- | --- |
| US$ 790 billion | Expected annual global manufacturing output from 5 technologies by 2030: solar, wind, batteries, electrolyzers and heat pumps. |
| US$ 500 billion | CO2 needed to be captured annually by 2050 to meet the U.S.'s energy transition goals. |
| 55-65% | China's share of global onshore wind nacelle (containing the gearbox) manufacturing capacity by 2030, from 60% currently; around 80% for offshore equipment. |
| 66% | China's share of global EV battery capacity by 2030, compared to 75% in 2022.ina's share of global EV battery capacity by 2030, compared to 75% in 2022. |
Source: International Energy Agency
---
PUBLIC POLICY
G7's Clean Energy Blueprint
Lost in the haze of a new Cold Conflict with Russia and China was the G7's Clean Energy Economy Action Plan unveiled in Hiroshima last week.
Some top takeaways from the CEEAP blueprint:
Zero-sum competition: G7 pledged not to fight over green investments—that's a nod to the infighting already evident with Canada and the European Union trying to lure automakers and others from the hypnotic charms of the U.S. Inflation Reduction Act.
Emissions accounting is coming: Markets must account for embedded emissions in traded goods and supply chains to ensure countries cavalier with their emissions are aligned with global climate goals. The G7 has asked the OECD "to explore methodological approaches for computing carbon intensity of goods or sectors."
No ally left behind: While G7 countries are signing critical minerals pacts with each other, most of the resources lie in emerging economies. The G7 Partnership for Global Infrastructure and Investment (PGII) aims to tap resources of emerging countries, bringing them along the Net Zero journey and ensuring a more just energy transition, at least in theory. The PGII is a direct response to China's sprawling Belt and Road program that aims to connect various emerging markets through ports and other infrastructure.
Climate finance: There was more talk of climate finance for low-income economies vulnerable to climate change. The World Bank is tasked with addressing the challenge.
Further reading:
The G7 Clean Energy Economy Action Plan
---
Climate Signals is curated by Yadullah Hussain, Managing Editor, RBC Climate Action Institute, with contributions from the Institute's experts.
Climate Signals Newsletter
Your Weekly Climate Briefing
Previous Articles:
PUBLIC POLICY
Gas On G7's Mind
Germany is pushing for more natural gas investments, while China (along with India, which is also invited) is seeking "multiple pathways" for fossil fuel use, setting up a clash with partners at the G7 Summit starting in Hiroshima, Japan, today.
Germany sees natural gas as "a transitional source of energy," arguing that its hurriedly built liquefied natural gas import terminals can be repurposed for hydrogen when that technology achieves scale, while China and India say a one-size-fits-all energy path doesn't meet their needs.
With G7 seeking to undermine future Russian energy output at the summit, agreement on pathways (plural) to achieve energy transition has become more pressing.
There are a number of energy security, environmental and geopolitical issues on the G7 agenda. We will also be watching for developments on the "Climate Club," that was fleshed out at the G7 summit in Germany last year.
Who can join the club and what will its framework look like? The Asian Development Bank Institute has a few ideas:
Phase out subsidies and improve carbon pricing. ADBI recommends that as a pre-requisite to joining the club.
Increase support for green research and development. Environmental-related R&D hovers around 1.8% of total R&D in the U.K. and France, and 0.3% in the U.S.
Impose a carbon import levy on regions without carbon pricing. A border carbon adjustment will be needed to protect the competitiveness of Climate Club participants.
Further Reading:
Read the G7 Finance Ministers' communique here.
Read the Asian Development Bank Institute's report here.
---
BUILDINGS
The $4OB Challenge
Buildings have long been at the heart of Canada's emissions problem, generating an eighth of our emissions, or some 90 million tonnes (MT) of carbon dioxide each year. And those emissions are rising, as more houses and commercial spaces heated with natural gas are built.
A new RBC Climate Action Institute report explores the scale of the building challenge in Canada:
5.8 million: The number of new houses—a 40% increase by 2030—needed as the current housing affordability crisis and immigration boom accelerate demand.
18MT: The added greenhouse gas emissions to our carbon footprint annually with prevailing codes and practices. Emissions from production of the cement and steel used to build them will add even more.
90MT: Greenhouse gas emissions from existing buildings. We'll need to change how and what we build to meet Net Zero targets. We'll also need to re-visit our current buildings—retrofitting some 16 million homes and 750 million square metres of commercial space.
$40B: Capital investment required each year, with 60% going to retrofits and the rest to new builds.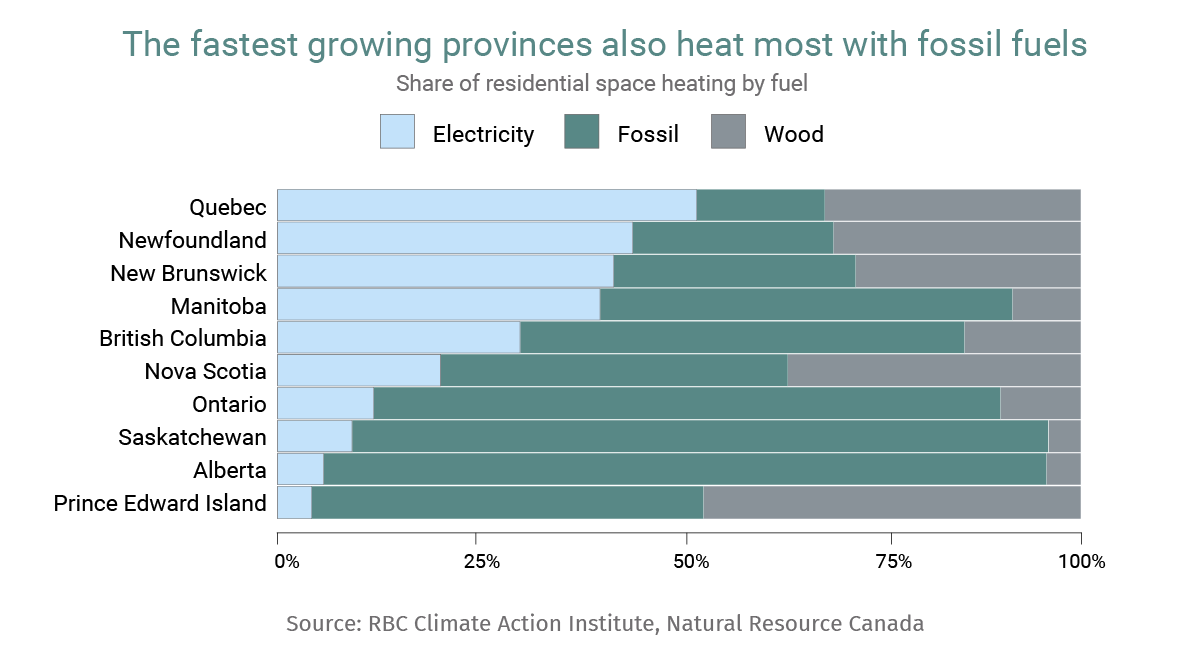 Read the full report here.
---
BIODVERSITY
Halt & Reverse
The wildfires currently raging in Alberta have already destroyed just over half a million hectares: that's precious biodiversity lost in weeks.
The makes the federal government's public consultations launched this week to shape Canada's 2030 Biodiversity Strategy even more urgent. The accompanying document, "Halting And Reversing Natural Loss," lays out the challenge of protecting the country's habitats in the face of climate change and rapid development.
Canada's 2030 strategy builds on the Biodiversity COP15 Summit in Montreal last year—dubbed by some as nature's "Paris Accord" moment—that ended with countries signing a landmark Kunming-Montreal Global Biodiversity Framework (GBF) to protect biodiversity, restore ecosystems and protect Indigenous rights.
Canada has had early success in protecting 300,000 square kilometres of land since 2015 and 14% of oceans protected (from 1% previously). But the frequency of volatile weather events such as droughts, wildfires, floods suggest a constant state of vigilance.

Indigenous stewards: Engaging Indigenous groups and ensuring provincial and municipal buy-in are critical to achieving the stated goal of protecting 30% of Canada's land and water by 2030. More than a 1,000 Indigenous guardians have been stewarding various conservation initiatives across the country and that number will only grow, according to Environment Minister Steven Guilbeault.
Tree inflation: The government helped plant 30 million trees in 2021, and 60 million in 2022, but the effort will need to be at a "cruising altitude" of 300 million trees a year to get to Canada's target of two billion by 2030, the Minister said.
Ecology and economy: Coordinating the efforts of more than 3,500 municipal, regional, Indigenous, and other local governments responsible for many direct, on-the-ground conservation activities will be a major undertaking. Another challenge would be to calibrate Canada's growing economic needs—housing, infrastructure and industry—with a lighter footprint on the country's ecology.
Further Reading:
Toward a 2030 Biodiversity Strategy for Canada: Halting and reversing nature loss.
---
ZEROING IN
The U.S. Carbon Capture Bill
Capturing and storing carbon in the U.S. is emerging as a massive investment opportunity as the Inflation Reduction Act tax credits roll out. A new U.S. Department of Energy report on the carbon capture, utilization and storage (CCUS) opportunity identifies the scale, and challenge, of the country's energy transition:
20 million tonnes
(MT) per annum
Existing CCUS capacity in the U.S.— the largest in the world.
400 to 1,800 MT
CO2 needed to be captured annually by 2050 to meet the U.S.'s energy transition goals.
US$600-billion
Investments needed in the U.S. to capitalize on the CCUS opportunity.
48,000 to 155,000
Kilometers of pipe needed to link CO2 to U.S. capture and storage sites by 2050. Current infrastructure: 8,000 km.
Source: U.S. Department of Energy
---
EMISSIONS
Charles The Green?
The King recycles. While it's hard to imagine the newly crowned King Charles III sorting out plastic from organics himself, the Royal household has a history of recycling food waste, glass, plastic, and paper across its palaces. Windsor Castle is powered by hydroelectricity, Balmoral by geothermal, and LED bulbs and smart meters dot the vast estate. Biodiversity is also a key consideration across the properties with long-grass policy, limited use of pesticides, and the recent introduction of bee hives at Buckingham Palace.
Still, latest data shows the Royal household's greenhouse gas emissions shot up in 2022 on heating, owned/leased vehicles, and a 46% increase in business travel from the pre-pandemic levels.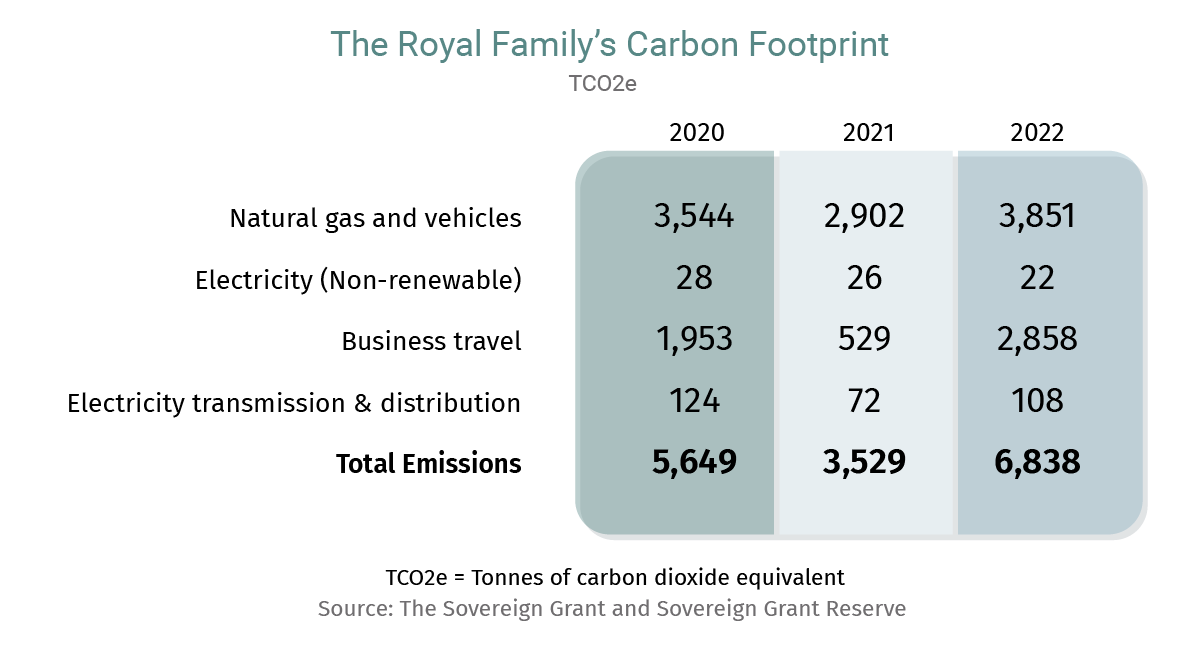 A princely warning: Over the decades, the new King has earned a reputation as an environmentally-conscious heir apparent. At a G20 summit in Rome in 2021, the-then Prince of Wales warned policymakers representing the world's most powerful economies that it's "quite literally the last-chance saloon," to forge public-private partnerships and secure trillions of dollars needed to mitigate the impact of climate change. Famously, he was discouraged from giving a major speech at COP27 in Egypt last year by then Prime Minister Liz Truss.
Call to private sector: As prince, Charles also launched the Sustainable Markets Initiative at The World Economic Forum Annual Meeting in Davos in 2020, backed by 500 CEOs, to accelerate the private sector's transition to a sustainable future. The SMI's mandate, Terra Carta, proposes a set of principles that puts nature, people and planet at the centre of global value creation.
Earthshot Prize: The Royal Foundation and Prince William, the current Prince of Wales, created the £1million Earthshot Prize Awards last year to reward companies fighting climate
change. Winners included an Omani company mineralizing CO2 in rock, and an Australia-based Indigenous women's group protecting the Great Barrier Reef.
Royal emissions: With support for the monarchy at a historic low in the U.K. (and in Canada), burnishing the new king's climate credentials could help shed an (LED) light on climate change. A good place to start: the Royal household's own emissions.
TRANSPORTATION
Recharging Canada's EV Sales
Is Canada on track to ensure all auto sales by 2035 will be zero-emissions? At current pace, we are on course to fall short of the target, according to projections by BloombergNEF and RBC Climate Action Institute. EVs would also account for only 38% of all Canadian car stock—short of the 50% target needed to reach the overall goal, BNEF projects. Boosting EV car stock is critical in making a dent in emissions.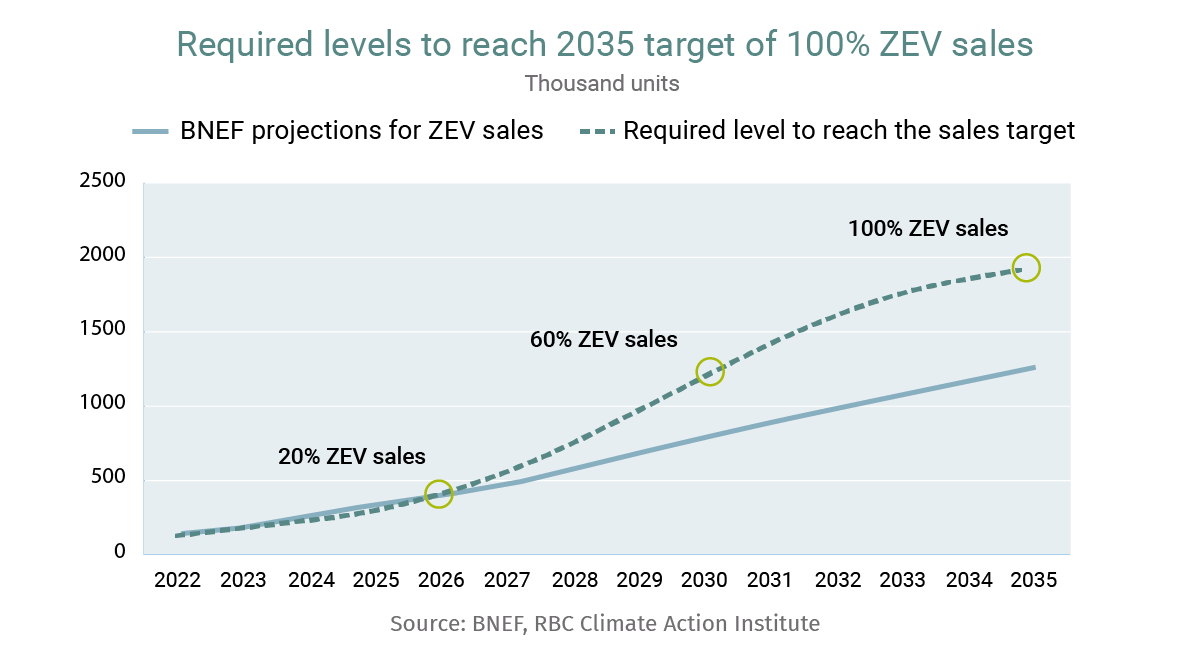 A spate of investments, including generous incentives, is pouring in to bolster Canada's EV supply chain and safeguard the auto industry's future. But hitting 100% sales target in just over a decade would require massive consumer buy-in. Industry will have to address affordability challenges and improve charging infrastructure to spark broader adoption.
Charger anxiety: A third of Canadians polled by KPMG were reluctant to buy an EV due to charger anxiety, among other factors. Another third of those polled would prefer a hybrid (for fear of running out of battery juice).
But EV owners are hooked: A vast majority of Canadian EVs owners polled in a separate survey in March expect their next car to also be an EV, given its lower operation costs, driving enjoyment and "quietness of ride," compared to combustion cars. Still, nearly half of EV owners hesitate to take their cars on long road trips, and two-thirds own a gas vehicle for longer journeys, according to a PlugShare survey.
Perception & reality: Before purchasing an EV, around two-thirds of those polled believed their EV's range was their most serious concern, but that dropped to nearly a third after owning the vehicle. Crucially—and this is arguably the biggest issue to address—before owning a vehicle, 66% worried about access to public charging stations, and that figure remained a significant 44% after owning an EV.
RCAI's research shows Canada is lagging others countries when it comes to charging infrastructure. Canada's EV charging and refuelling infrastructure targets call for 84,500 chargers (current status: ~21,500) and 25 hydrogen stations (current status: 5) to be deployed by 2029.
---
SKILLS
Green Jobs Key To US$44-Trillion Transition
The latest International Renewable Energy Agency outlook has a number of interesting data points—such as US$44 trillion needed globally this decade to remain in the 1.5°C Scenario until 2030—but what caught our eye is the focus on skillsets, which IRENA believes will be the "lynchpin" of a successful energy transition.
The renewable energy sector created 5 million jobs over the past 10 years to reach 12.7 million.
Tens of millions of additional jobs will be created in coming decades, but they need to be "decent" with equal opportunities for women, youth and minorities.
Incorporating renewable energy in education and expand technical and vocational training opportunities.
Develop pathways for fossil fuel industry workers to retrain and recertify for careers in renewable energy.
The last point is contentious in Alberta. The federal government, which has moved away from the troubling "just transition" phrase to "sustainable jobs," laid out a 32-page plan in February to pivot from combustion-energy to clean-energy jobs. A federal bill is forthcoming, but the two main political parties in Alberta, now in the midst of an election cycle, are opposed to it—at least for now.
Canada's skills shortages are well documented, and may be exacerbated by provinces and federal governments' inability to find common ground. At stake are thousands of jobs and the country's energy and climate security. If Canada can get its policies right, around 400,000 new green jobs can be created, according to RBC estimates.
---
ZEROING IN
Quest For Sustainable Ag
The world needs to embark on a more sustainable agriculture path—and fast. The vital sector is draining resources, remains carbon-intensive and eroding biodiversity. A new report examines the natural capital being consumed by the sector:
| | |
| --- | --- |
| 23% | Agriculture's share of global greenhouse gas emissions. |
| 80% | Agriculture's contribution to biodiversity loss. It's also responsible for 80% of land-system change (land use and deforestation), and 5% of ozone depletion. |
| 50% | The percentage of all ice-free land used for agriculture; 55% of ocean is industrially fished. |
| 70-84% | Percentage of freshwater withdrawals used for agriculture. |
Source: Bloomberg NEF BNEF (bbhub.io)
Further reading:
The Next Green Revolution: How Canada can produce more food and fewer emissions (rbc.com)
---
CRITICAL MINERALS
Plugging The Lithium Deficit
Chile's decision to nationalize its lithium mines highlights the precariousness of the resources vital in building decarbonized sectors. While the move is aimed at boosting Chile's production, analysts question the major producer's ability to raise output on its own. The move comes on the heels of Mexico nationalizing lithium mining and extraction earlier this year, and is part of a wider expansion challenge facing "green metals" at a time when they are expected to play a key role in decarbonization. While alternatives are also gaining traction, lithium-ion batteries are expected to power the global electric vehicle industry and cut transportation sector's emissions.
Global scramble: Lithium is facing a supply deficit just as major automakers are ramping up EV production. Germany restarted a mothballed fluorspar mine—a metal known as "lithium's little brother"—after 27 years in a desperate measure to gain some self-sufficiency in EV batteries for its all-important auto sector. Capital spending on lithium extraction globally hit a record US$467 million in 2022, the highest since S&P Global Ratings started tracking the commodity in 2010, as the industry eyes more politically-stable jurisdictions.
Canada's lithium play: Last year, Ottawa signed deals with two major German automakers to tap Canada's battery minerals, including lithium, cobalt, nickel and graphite. Tesla, which is building a lithium refinery in Texas, signed a deal earlier this year to source high-purity lithium ore from a Quebec mine. Canada has the world's 6th largest lithium reserves but negligible production, with a few companies suffering bankruptcies over the past few years. The absence of an active lithium mining and processing sector remains another challenge. Still, a number of promising lithium projects have advanced in Manitoba, Ontario and Quebec, Alberta and Saskatchewan. Canada also forced Chinese companies to divest from Canadian-listed lithium companies last year to secure its supplies.
Brine credits: To help feed the North American EV sector, the federal government's 2023 budget expanded the eligibility of the Critical Mineral Exploration Tax Credit to lithium from brines and allow producers of lithium from brines to issue flow-through shares (effectively a tax deduction). That would benefit several tech-intensive lithium brine projects in Alberta and Saskatchewan eyeing lithium extraction from oil and gas fields and industrial wastewater.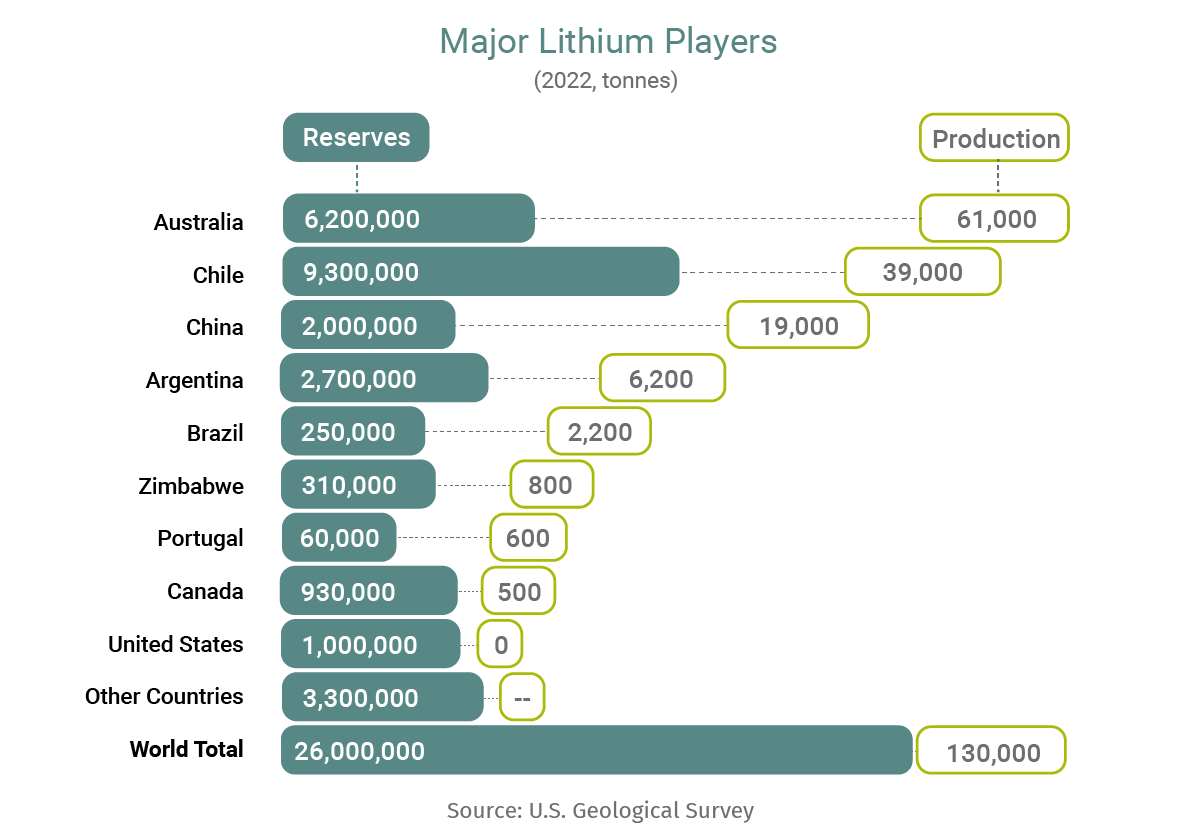 ---
ENERGY
$100B: The Cost of Oil Sands Phaseout
Phasing out the oil sands to get to Net Zero? That's one way, but Canada will be poorer for it, with limited environmental gains. An accelerated push to phaseout the oil industry would trigger a $100-billion GDP loss, a deep recession, lower incomes, and declining exports by 2050. That's the projection of a new Public Policy Forum report. Part of the Energy Future Forum project that features RBC as a member, the forum explores practical ways for Canada to get to Net Zero by 2050.
The rest of the economy would hurt too, but economic engine Alberta would bear the brunt. In fact, research firm Navius Research, which crunched the numbers, says it may be underestimating the impact to Alberta's economy.

It will be marginally less costly for rest of the economy to achieve its emissions targets, but Canada would turn into a net importer, with fewer jobs.
It denies existing producers the opportunity to innovate their way to a Net Zero future. Think of the potential of carbon capture and, arguably nascent, direct air capture technology.
Conflating emissions with fossil fuels is not helpful. To be clear, Canada needs to implement new policies as the current levers leave us well short of Net Zero targets. But energy reliability and affordability, and economic prosperity, should not play a secondary role to emissions reduction. We can find better ways.
ENERGY
India's Emissions Challenge
India, which recently surpassed China as the world's most populous country, has a major climate challenge on its hands. The South Asian nation's 1.4-billion strong population is powering the economy to new heights with GDP expected to vault past Japan and Germany by 2030 to become the third largest economy after the U.S. and China. India already has the third largest emissions footprint on the planet—can it manage emissions without sacrificing economic expansion?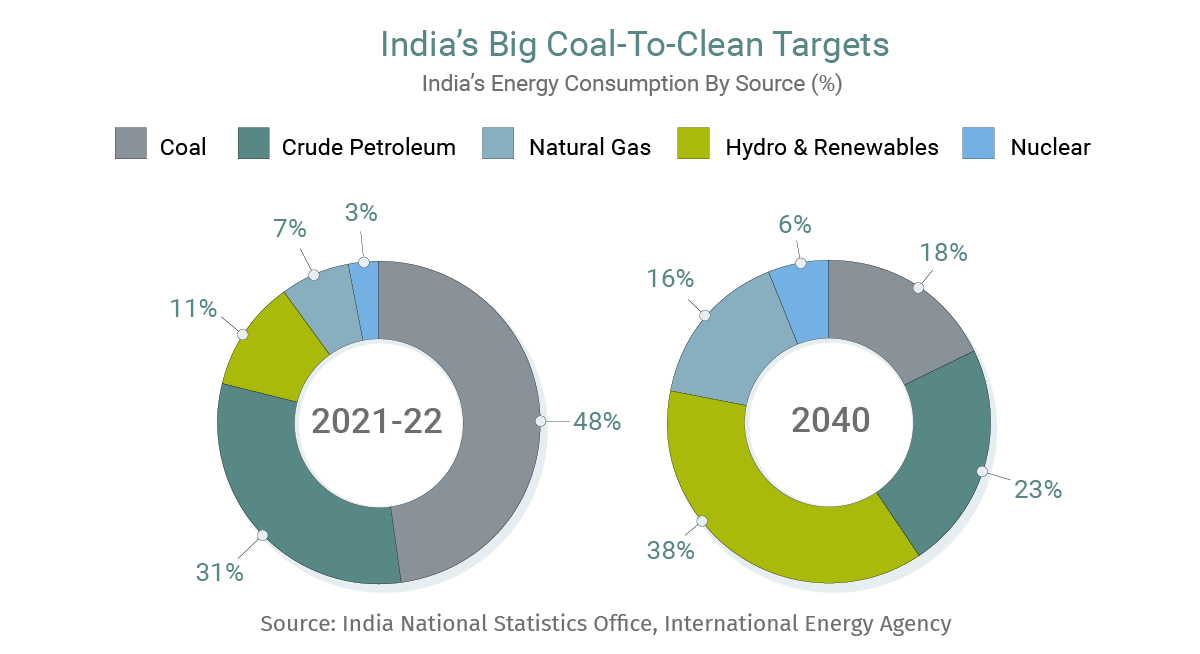 Here's a quick look at India's energy trends over the past decade:
India is a major producer and consumer of coal, with consumption rising more than 4% annually over the past decade.
Consumption of petroleum products surged around 3% annually, natural gas 1.2%, and electricity demand rose over 5% during the period.
Per capita energy consumption shot up 9.3% during the period, although energy intensity contracted 2.4%.
Middle class boom: Some estimates show India's middle class will grow from just under a third of its current population to almost two-thirds by 2047. That's a lot of new people eyeing the necessities of modern life: cars, refrigerators, phones, housing, utilities and food—all requiring energy and emissions intensive processes.
Climate Ambition: The runaway growth has also meant that India is home to five of the 10 most polluted cities in the world. Plans to raise non-fossil fuel power capacity to 50% by 2030 is part of an overarching plan to get to Net Zero by 2070, but Climate Action Tracker deems India's climate policies and actions "insufficient." The country is investing heavily in solar parks, wind farms and hydro, while the government launched Mission LiFE (Lifestyle for Environment), aimed at changing individual behaviour.
What can Canadian companies offer India?: There's no shortage of companies wooing India. Middle East, European and Russian conventional and cleaner energy producers are well-entrenched in the Indian supply chain, while U.S. LNG producers have ramped up exports to the South Asian nation. Canada's Indo-Pacific strategy focuses on clean technology, but Canadian companies have barely scratched the surface of India's energy potential, including its efforts to develop green hydrogen, solar and wind projects.
A new way: India, along with China, also recently pushed for "multiple energy pathways," that allows some G20 countries to choose a roadmap to cut carbon emissions instead of setting a deadline to end the use of fossil fuels. The issue will likely come up again at COP28 being held in the UAE later this year.
---
ENERGY
Rise Of Renewable Natural Gas
Expect renewable natural gas (RNG) projects to more than double in Canada over the next few years, as policy changes and provincial mandates take effect. As many as 18 new projects are underway taking Canada's total RNG capacity to 17.1 petajoules, from 7.2 petajoules in 2021, according to the Canada Energy Regulator.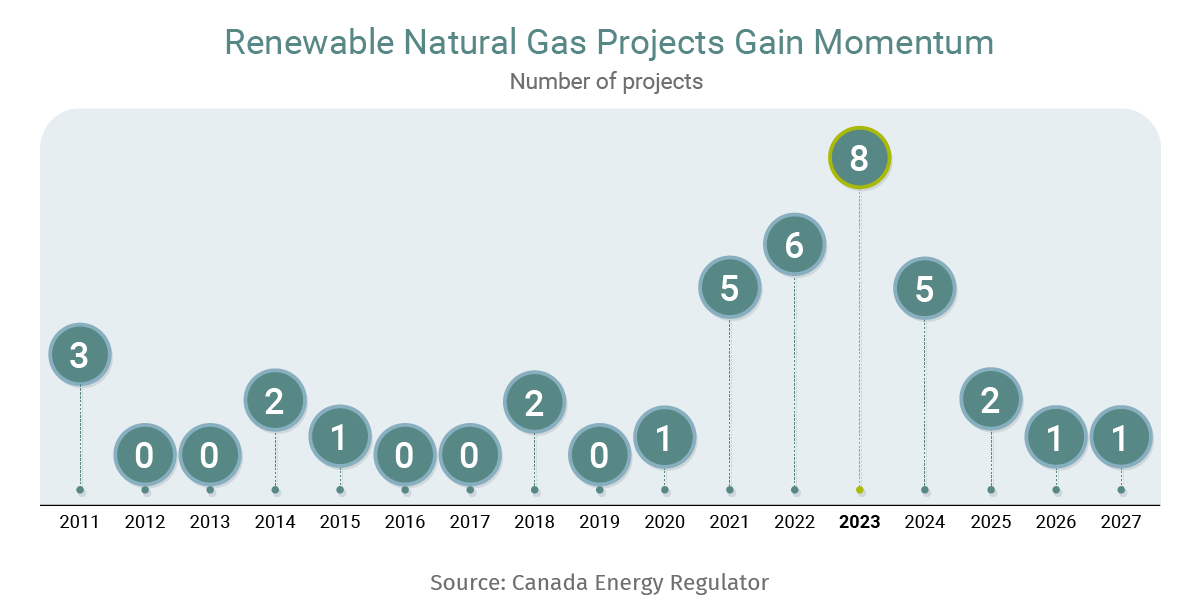 How is it produced?: Biogas used to produce RNG is sourced from solid waste landfills, livestock farms, and organic waste management operations, among others, through a biochemical process, such as anaerobic digestion. Its key superpower: RNG captures and recovers methane, a potent greenhouse gas. RNG is also indistinguishable from conventional gas once processed and can be injected into existing natural gas pipeline to power transportation, industry and homes.
Quebec leads: The province was the first in Canada to mandate inclusion of RNG in natural gas, with a target to blend a minimum of 5% RNG in natural gas by 2025. British Columbia has a committed to 15% renewable content by 2030. Utilities are teaming up with farmers to leverage their organic waste and build biogas facilities and cut agriculture emissions that account for around 10% of Canada's greenhouse gas emissions.
Emissions: An inspirational target set by Canadian utilities to blend 10% of RNG in the mix by 2030, would lead to a 24 million tonne reduction of GHG emissions—equivalent to removing 5.2 million cars off the road, according to the Canadian Gas Association.
Challenges?: There are a few. Anaerobic digester facilities face long regulatory timelines, while scale is another issue facing smaller facilities. The federal government is seeking feedback for a proposed regulatory framework to reduce Canada's landfill methane emissions, which could give RNG a boost.
---
TECHNOLOGY
The Good, The Bad & The Ugly of AI
When the "Godfather of AI" says he regrets his life's work and we may have gone too far with the technology, it's time to take notice. Geoffrey Hinton, who pioneered artificial intelligence systems that are the bedrock of new AI iterations such as ChatGPT, is warning that the unregulated technology could soon flood us with fake photos and videos and upend labour markets. This has far-reaching repercussions for the entire energy and climate complex, too.
The Good: AI is seen as a promising tool to mitigate climate change. Its ability to process detailed climate data and models, and quickly detect changes in complex locations such as oceans, near-space and the Arctic could be vital in proactively managing crises, according to Jim Bellingham, executive director of the Johns Hopkins Institute for Assured Autonomy. Other applications include using AI to build low-emissions materials for electric cars, solar panels and wind turbines that are lighter, stronger and cheaper.
University of Toronto was recently the biggest recipient of a $200-million grant from the Canada First Research Excellence Fund for a project that combines artificial intelligence, robotics and advanced computing to discover new materials and molecules at a fraction of the usual time and cost. "Applications include everything from life-saving medications and biodegradable plastics to low-carbon cement and renewable energy," UofT said.
The Bad: But Geoffrey Hinton, and a number of other thought leaders in the space, are gripped by AI's supercharged ability to spread misinformation. That could seep into political discourse and set back discussions and decisions on climate change and biodiversity. Hinton also warned that it will be hard to stop "bad actors from using it for bad things,"—and the possibilities are endless.
The Ugly: As historian Yuval Hariri wrote in the New York Times, while AI can invent new solutions for climate and energy crises, "it doesn't matter how high the skyscraper of benefits AI assembles if the foundation collapses."
---
PUBLIC POLICY
Taking Stock Of Canada's Emissions
Scaling down down Canada's emissions to 440 Mt by 2030 from its current levels of 670 MT will require cuts equal to around four times the drop seen during the pandemic, according to a new RBC Climate Action Institute analysis.
While existing policies have moved the needle, achieving Ottawa's target of 40% lower emissions by 2030 will require a harder push from industry and federal and provincial policymakers.
While oil and gas sector has the steepest challenge, population growth and economic expansion means agriculture, building and transportation sectors must also find ways to grow without expanding their emissions footprint.
Read the full report here to explore the challenges facing provinces and key sectors to meet 2030 targets.
---
ZEROING IN
IAAC: A Fast-Track Process Stuck In Slow Motion
The Impact Assessment Agency of Canada came into effect in 2109 to streamline federal and provincial decisions on infrastructure projects. It is early days, but the process has struggled to accelerate decision-making, according to a new Canada West Foundation report.
| | |
| --- | --- |
| 1 | The number of projects approved by the IAAC since its inception—around 25 projects are under review. |
| 180 | The legislated limit IAAC has to complete its work in the planning phase. But the IAAC can suspend the clock if requested by proponents or the Ministry of Environment. |
| 332 | The average days projects spent in Phase 1, suggesting the process remains a work in progress. |
| 862 | The number of days Fording River Extension, a coal mining project, has spent in the regulatory process—the most among projects in review. |
Source: Canada West Foundation
PUBLIC POLICY
5 Ways Alberta Can Upgrade Its Climate Plan
Canada would struggle to hit its Net Zero targets with Alberta pulling along in the same direction.
The province released its Emissions Reduction and Energy Development Plan days after Canada's latest emissions report showed the province's emissions rose 8%, even as national emissions reversed 8% in 2021 vs 2005. The reason: Oilsands production in Alberta surged 775% and emissions shot up 460% to 70 metric tonnes since the 1990s. On the flip side: the world needed Canadian oil and higher production generated tax revenues, economic activity and shareholder wealth.
Skeptics argue that the EREDP doesn't have a clear path forward (Pembina Institute said the plan lacked "key elements of credible strategy.")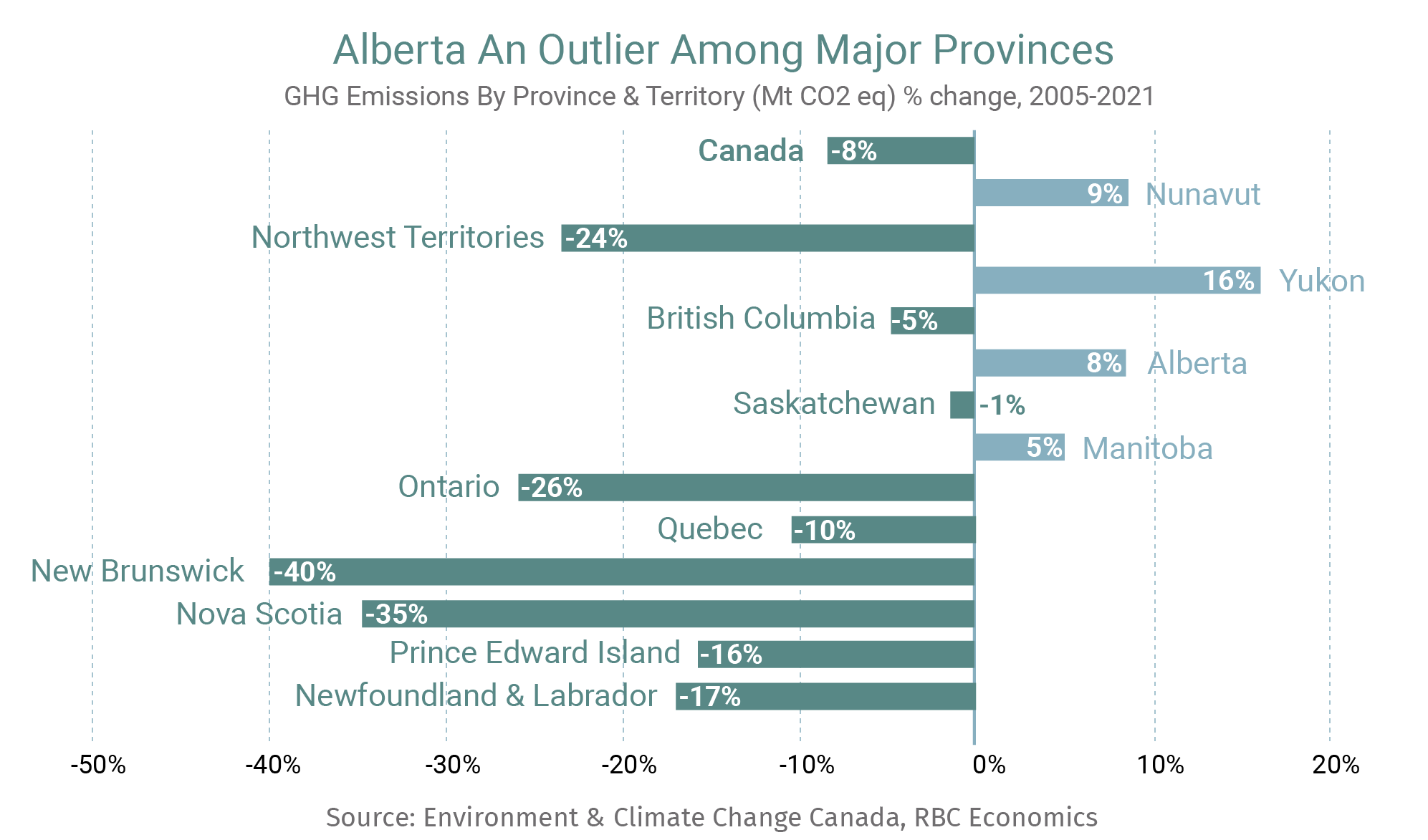 Here's how the province could upgrade its plan:
Target 2030: It's hard to set a 2030 emissions plan with only seven years to go, but Alberta should offer some climate guardrails and emissions targets. Committing to the federal target of 40-45% cut in emissions by 2030 would send a strong signal. Working with Indigenous group to help speed up the six-company Pathways Alliance's carbon capture projects would bring instant climate cred.
Stringent regulations: There are still too many leaks, spills and accidents in the oil and gas sector that distract from the important work being done by industry on emissions. Orphan oil and gas wells cleanup is another challenge worth addressing head-on.
Alberta Calling: The province's tongue-in-cheek ads to attract Canadians from the expensive housing markets of Toronto and Vancouver netted 33,000 net migrations in Q3, 2022—a remarkable success. Can Alberta make a pitch to (new) clean tech immigrants to lay down their roots in the province? The federal government has also earmarked billions in clean tech and mining investment tax credits. Leverage Alberta's affordable housing to attract some of those dollars in the province.
Green shoots: Emissions from Alberta's agriculture sector fell slightly from 2005 levels—is there a way to get further reductions? RBC's report, "The Next Green Revolution" has some thoughts.
Electrify to the hilt: Alberta's last coal-powered plant is set to close down this year—seven years ahead of schedule. The switch away from coal has led to a 25% drop in electricity emissions since 2005—a remarkable effort. Despite the spate of wind and solar farms dotting the Prairies, the switch from coal has favoured natural gas, with 3,886 megawatts in new natural gas capacity. Committing to a Net Zero grid by 2035, would spur investments in cleaner energy sources, including small modular nuclear reactors (SMRs) and hydrogen.
Further Reading:
Emissions Reduction and Energy Development Plan | Alberta.ca
---
PUBLIC POLICY
Why G7 Eco-Communiqué Was A COP28 Preview
The G7 environment ministers' behind-the-scenes divisions in Japan could foreshadow what's to come later in the year at COP28 in Dubai, UAE.
Crucially, the ministers agreed to phase-out "unabated fossil fuels" to achieve Net Zero by 2050 in their 36-page communiqué—that commitment had failed to make the cut at COP27, as Saudi Arabia, China and others prevailed. Japan's push for greater support for natural gas (and hydrogen) was also diluted in the final draft; in a compromise, no timeline was set for phasing out coal-fired power plants. (As an aside, the word "unabated" means oil and gas producers must double-down on carbon capture and other emissions-cutting tech).
New Climate Bargain: Expect more climate bargaining to come as COP28 host UAE, a major hydrocarbons producer, and its allies, counter the G7 call. The challenge will be to remain true to Net Zero. Compromise is already in the air, with Sultan Al Jaber, President of COP28 (and CEO of state-owned Abu Dhabi National Oil Co.) advocating "a pragmatic energy transition." While some have questioned the merits of an oil CEO running the world's most influential climate platform, hydrocarbon hubs such as the UAE are also where the biggest climate fights are taking place, and the stakes are even more consequential for economies of the so-called "Global South."
Further Reading:
A Kingdom Built On Oil Now Controls the World's Climate Progress
---
TRANSPORTATION
E-Scooters' Rough Ride
E-scooters seem like an eco-friendly, fun solution for last mile and quick trips, but the two-wheelers have divided people. Parisians said au revoir to the 15,000-scooter services recently in a stunning 89% vote against it (even the pro-cycling Socialist Paris Mayor Anne Hidalgo supported the ban). In the UK, the National Federation of the Blind thinks e-scooters are unlike bikes and a danger to the blind and visually impaired, while the Accessibility for Ontarians with Disabilities Act Alliance considers them a "silent menace."
What's the case against e-scooters?: They clutter roads and often have lower age limits than other modes of transport. E-scooters have been blamed for deaths and serious accidents in many cities. (There are also concerns about recycling but that's not unique to e-scooters).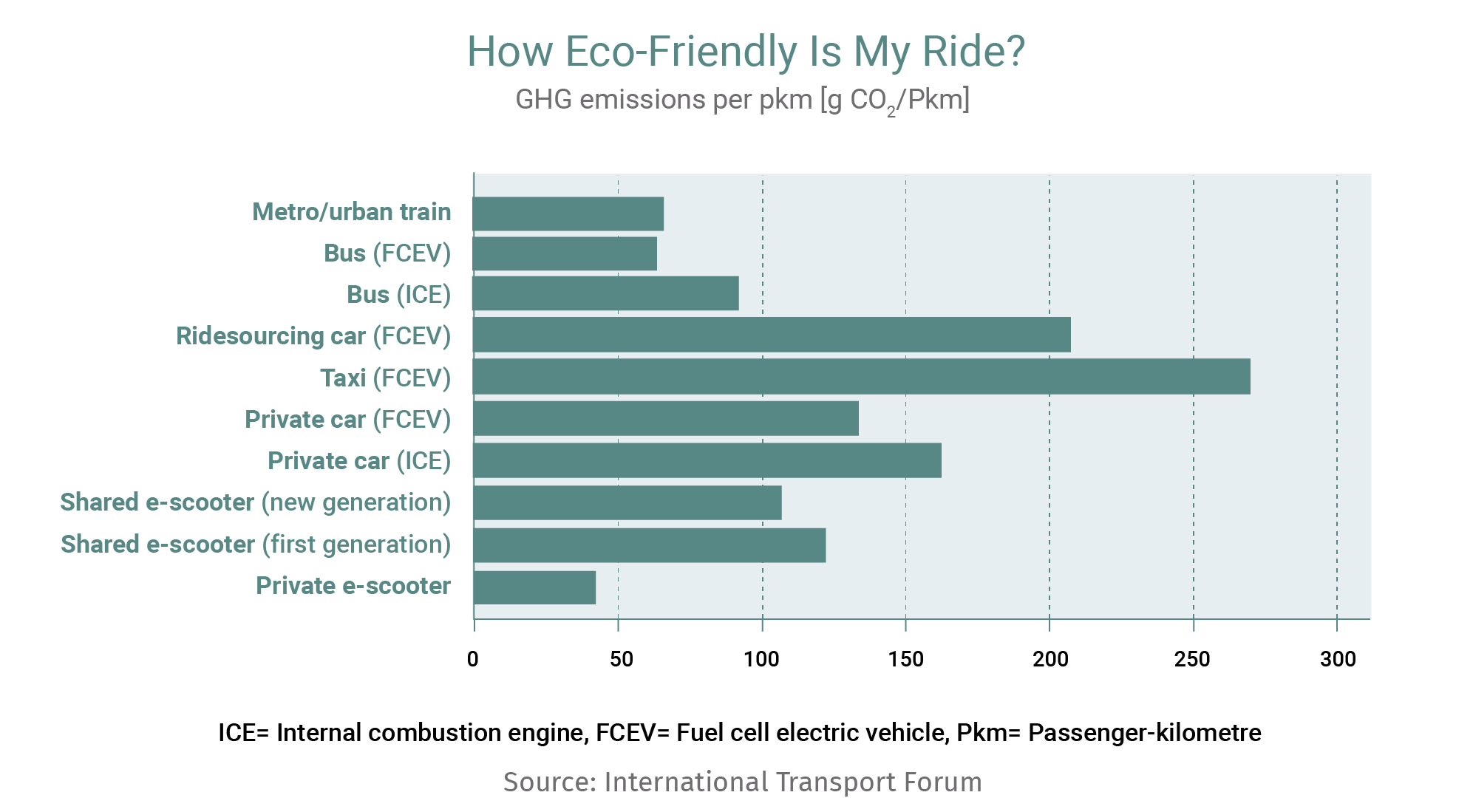 What about their eco credentials? Research by the International Transport Forum suggests e-scooters' environmental impact is lower than taxis, ride-sharing services, private cars, but "shared mobility services have the highest energy and GHG emission impacts/per km of all urban mobility options." New generation of e-scooters have swappable batteries that add to greenhouse gas emissions per kilometer, but it could also extend their life.

Another study notes that the lifecycle greenhouse gas emissions associated with e-scooter use is higher in 65% "than the suite of modes of transportation that are displaced."
Also, use of e-scooters and other shared micro transportation services could displace the most eco-friendly practice in mobility: walking. It's going to be hard for e-scooters to compete with increasingly-electrifying public transport in major Canadian cities. But with cost of gas rising, it remains a tempting option for many.
Where do Canadian cities stand on e-scooters?: Many large Canadian cities, notably Toronto has banned e-scooter services, but some cities such as Vancouver approved a three-year electric kick scooter pilot program starting in 2021, with restrictions. E-scooters are set to return to Ottawa in May, subject to stricter rules.
---
ENERGY
Canada's Gas Conundrum
resource could unlock a fresh wave of economic activity and help cut global emissions. But we risk missing our Net Zero targets without major investments in abatement technologies.
Canada's Conundrum: Three Ways To Address The World's Gas & Climate Crises, a new report by RBC Climate Action Institute, explores three roles Canada can play to boost global energy and environmental security:
The Gulf Coast Exporter: Ramp up natural gas exports to the U.S. Gulf Coast liquefied natural gas (LNG) producers, which is developing a number of gas-exporting projects. The strategy may raise Canada's upstream gas sector emissions by up to 7%.

The Strategic Supplier: Carve a niche in global LNG markets as a strategic supplier of stable, low-emissions gas. A handful of projects could potentially reduce global emissions by a net 105 MtCO2e—roughly equivalent to Qatar's total GHG emissions, but would also raise Canadian gas sector emissions by a third assuming current technologies.
The West Coast Gas Hub: Build out LNG capacity to its full potential, taking a more assertive role in global natural gas markets. The strategy could reduce net global emissions by as much as 211 MtCO2e but raise the Canadian sector's emissions by 66%. The strategy would attract more than $200 billion in investments.
Read the full report here.
---
ZEROING IN
Charge Of The EV Brigade
Electric vehicles are steadily raising their market share, not just in the key markets of China, U.S. and Europe, but also in a number of promising emerging markets, according to a new report by the International Energy Agency. Some highlights include:
| | |
| --- | --- |
| 10 million | The record number of electric cars sold globally in 2022—with forecasts of 14 million EV car sales in 2023. |
| 5 million | The number of oil barrels set to be avoided by 2030, thanks to the transport sector's rapid electrification. |
| 60% | China's market share of EV car sales. |
| 9.6% | The market share of cars sold in Canada that were zero-emissions in Q4, 2022, up from 8.7% in Q3. |
TRANSPORTATION
EVs To Supercharge Canada's Mining Sector
North America's electric vehicle sector has moved into the fast lane. A new U.S. proposal to impose strict emissions rules on conventional cars is set to boost EV sales in the country, with the added bonus of cutting U.S. oil imports by 20 billion barrels (CC: Canadian oil producers) and avoiding 10 billion tons of CO2 emissions—more than twice the total U.S. CO2 emissions in 2022. But a lot more critical minerals will be needed to reach the U.S.'s stated target of EVs making up 66% of all cars sales by 2032.
The hunt for raw materials: While lack of charging infrastructure could slow EV sales, an even bigger concern is the looming raw material shortage that could restrict supply. Western countries and auto makers are scrambling for increasingly-expensive lithium, copper, nickel and rare earth materials, that's adding to costs. G7 environment ministers' latest communique after a meeting last week in Sapporo, Japan, stressed the importance of strengthening critical minerals and materials supply chains towards a Net Zero economy.
Canada's opportunity: Don't expect the transition from combustion to clean vehicles to be easy and on time, but the U.S. move is a boon for Canadian mining.
The sector got a big boost with Ottawa proposing investment tax credit for mining companies in the 2023 federal budget. A $3.8-billion Critical Minerals Strategy was announced in the 2022 budget aimed at taking advantage of the U.S.'s Buy North American provisions and the U.S. Inflation Reduction Act. The Feds also launched the $1.5-billion Critical Minerals Infrastructure Fund towards energy and transportation projects needed to unlock mineral-rich deposits. Canada has already signed a joint-action plan with the U.S., EU and Japan as it positions itself as a provider of critical minerals.
What's missing?: Engagement with Indigenous groups, which is impeding development of clean-energy infrastructure projects—a critical Canadian weakness. Many mineral-rich deposits such as the Ring of Fire in Ontario, straddle Indigenous territory and need their capital—natural, financial, intellectual and human, as outlined in our recent report 92 to Zero—before projects can proceed.
---
BUILDINGS
Warming Up To Heat Pumps
There is a quiet climate revolution breezing through the world's ventilation systems. Heat pump purchases in the U.S. exceeded those of natural gas furnaces in 2022, part of a global uptick in sales of the heating and cooling system.
What are heat pumps, again?: Similar to furnaces or boilers, heat pumps can be two to three times more efficient than other electric home heating sources—making them a favourite among environmental economists. Heat pumps have had a slow uptake in Canada as they are less optimal in sub-freezing conditions, but that's changing as more efficient upgrades emerge.
So, the world's warming up to them?: Yes, global sales of heat pumps jumped almost 11% in 2022—a second year of double-digit growth, International Energy Agency data shows. Europe saw a 40% surge in sales as the continent worked hard to cut its dependence on Russian natural gas exports. Globally, heat pumps (when used as a main heating device) account for 10% of the heat needs of buildings—and are expected to reach 20% by 2030 to meet global climate pledges.
Installing heat pumps require high upfront costs but the technology has benefitted from strong financial incentives in 30 countries, with subsidy levels rising in a number of countries. The U.S. Inflation Reduction Act, for example, offers federal income tax credits for installing heat pumps. Global supply chains in the space are currently stretched, especially for chips, but manufacturing incentives in the U.S. and EU should boost supplies.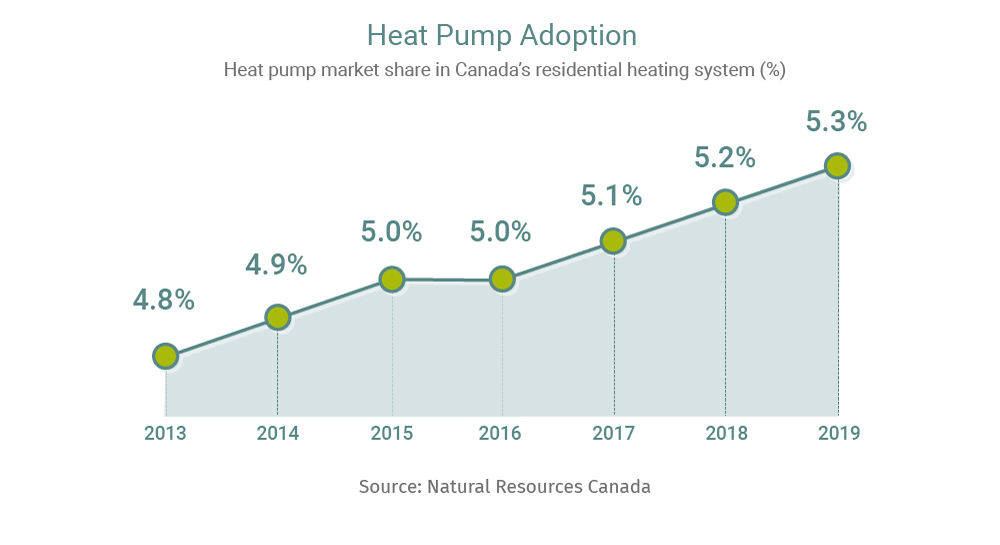 Why is Canada cool on heat pumps? The federal government sees heat pump adoption as one of the ways to bring down building emissions that account for 13% of Canada's greenhouse gas emissions. But sales have crawled. Heat pumps had a 5.3% market share in 2019 of the Canadian heat and ventilation market, but Emissions Reduction Plan policies could help double that by 2030, the Canadian Climate Institute estimates.
How can Canada spur faster heat pump adoption? Here are three ways:
By offering subsidies to make the expensive upfront cost of heat pumps more palatable to early adopters and help drive down the cost curve.
By targeting policy at segments where heat pumps already make financial sense (e.g., for many households with oil or propane heat).
By educating HVAC technicians and installers about the benefits heat pumps can help market them to more homeowners.
---
FINANCING
A Greener World Bank
The biggest news in climate last week didn't make the news. But it could make history.
The world's leading economic powers met in Washington and agreed to reforms for the World Bank that will allow the institution to lend an additional $50 billion over 10 years to low- and middle-income countries to fight climate change. It's an important step towards helping developing countries invest now in cleaner energy and industrial processes.
We'll have to do a lot more. The Peterson Institute for International Economics figures the world's developing economies, which will account for the overwhelming growth of greenhouse gas emissions in the coming decades, need a seven-fold increase in climate-related investments. Most of that can come from the private sector, but there needs to be a lot more government-backed lending, too, to reduce the risk for other investors.
Enter multilateral development banks like the World Bank, Asia Development Bank and African Development Bank. They provided US$20 billion in climate financing in 2020, compared to the US$66-111 billion of government-backed loans the Peterson Institute estimates will be needed to fight climate change.
To get that sort of capital, the West will need to invest a lot more in the World Bank and others like it – or let China and other growing middle-income countries play a greater role. Both options are challenged because of fiscal restraint in the West and Washington's desire to keep Chinese influence at bay.
U.S. Treasury Secretary Janet Yellen told the Bank to do more with what it has. Finance ministers from developing countries also came to Washington to share concerns about climate overtaking poverty alleviation as a global priority, as they find governments and investors looking eagerly to invest in solar farms over primary schools.
If the U.S. and other major World Bank shareholders don't continue to push for reforms and more capital, they may find their climate ambitions to be a day late and a dollar short.
---
PUBLIC POLICY
Waiting For A Net Zero Investment Wave
Canada's 2023 federal budget offers a significant response to the United States' multi-billion dollar Inflation Reduction Act (IRA), but a Net Zero investment wave could face headwinds from rising international competition, regulatory impediments and the difficulty in getting provinces on board.
The budget's new green measures are focused on bolstering the upstream supply chain for a low-carbon economy with new refundable investment tax credits (ITC) for clean electricity, clean-technology manufacturing, and hydrogen. Combined with carbon capture and cleantech ITCs announced over the past year, the federal government expects to spend about $80 billion over 10 years on green investment tax credits.
The measures compare favourably to IRA, but RBC Climate Action Institute's new Policy Insight, Will Budget 2023 Spark A Green Investment Wave?, explains why Canada's efforts to secure green investments could still face challenges.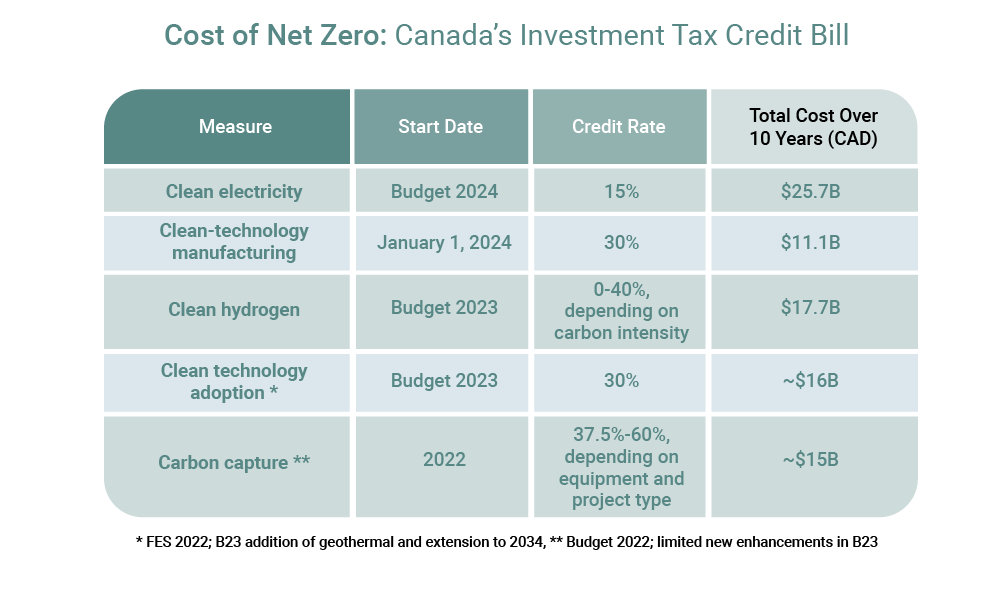 The measures compare favourably to IRA, but RBC Climate Action Institute's new Policy Insight, Will Budget 2023 Spark A Green Investment Wave?, explains why Canada's efforts to secure green investments could still face challenges.
---
ZEROING IN
Taking Stock Of Canada's Emissions
Some good news in the run-up to Earth Day on April 22: Canada's 2023 National Inventory Report shows some progress towards climate action. Still, there's a long way to go to reach Canada's 2030 emissions reduction targets. Some key stats from the latest NIR:
-8.4%
Decline in Canada's greenhouse gas emissions in 2021 from 2005 levels. But emissions in 2021 rose 1.8% compared to the pandemic-hit 2020.
5%
Increase in GHG emissions from transport, followed by 4% jump in oil and gas emissions, between 2020 and 2021.
-2.2%
Decline in agriculture GHG emissions between 2020 and 2021, partly due to drought-related declines in crop production on the Prairies.
-29%
The decline in emissions intensity of Canadian GDP since 2005, suggesting a decoupling of economic growth from emissions.
Source: National Inventory Report